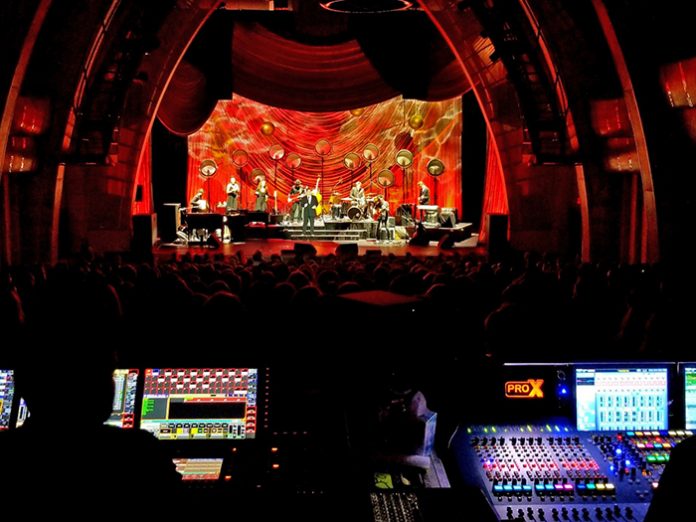 Canadian singer-songwriter k.d. lang recently wrapped up a 21-date tour across the US. Playing theatre-sized venues throughout, an Alcons Audio LR18 compact mid-size line-array was requested to satisfy FOH engineer Gary Stokes' desire to precisely reproduce the purity of sound that is k.d. lang.
"Ever since the first time I experienced Alcons systems, I heard the difference. The pro-ribbon drivers are so accurate, having the system makes my job so much easier and a real pleasure," he said. "The power and clarity of Alcons systems is perfect for k.d.'s musical style and dynamic range."
Complementing the main hangs of LR18 on the tour were four BC543 very high-output subwoofers, an active cardioid design utilizing three carbon fiber cones. SR9 ultra-compact monitors were used for front fill, with VR8 compact versatile monitors and QR24/110 modular line-source array columns in specialized fill roles.
"Thanks to the incredible accuracy of the QR24, we used them many times to support the front fills, covering the front 4-5 rows," said Alcons' North American sales manager David Rahn, who spent the early part of the tour with Stokes. "This allowed us to focus the main hangs on a larger portion of the listening area.
"In addition, having the cardioid subs really helped to clean up the low end on stage, making the monitor engineer's job much easier in general."
"Alcons systems excel on so many fronts, the fidelity is obvious from top to bottom," Stokes added. "I'm also very impressed with the packaging for the touring market. The road cases are 'truck pack' friendly, the rigging is well thought out and the systems are very easy and quick to fly. I'm really looking forward to being able to use Alcons systems more and more as they penetrate the touring market."
The tour took in a number of historic theatres, with Stokes and Rahn both keenly aware that delivering the quality of sound that modern audiences expect – especially with performances as subtly nuanced as k.d. lang – would be a challenge.
"Despite restoration and upgrading programs, meeting contemporary audience expectations in older venues always makes the audio team work hard," noted Rahn. "Gary really 'gets it', he is a pleasure to work with and the combination of him and Alcons delivered a beautifully-balanced sound. We're literally Stoked to have him as an Alcons ambassador for the touring market."
Fans were also very complimentary about the sound, as James Cottrell of the artist's production team discovered at nightly 'meet and greet' sessions with the artist.
"We have been amazed at how clear and distinct the sound of the Alcons system is. Every part of the performance, no matter how small, can be heard and the dynamics are phenomenal," he said. "Every night, fans who meet her have been paying compliments about the sound.
"We know that k.d. has some of the best audio guys working for her and we are used to their precision, but the shows have sounded even better than expected with the LR18 system. What a great combination of artist, technical excellence and exceptional sound equipment!"