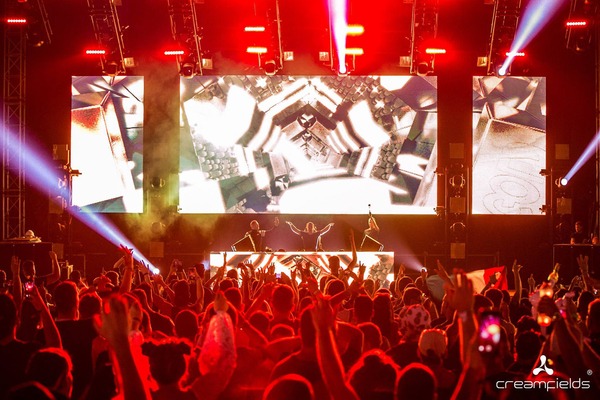 Audio-visual consultant, Adlib Audio provided all sound, lighting and rigging to the stages, VIP and hospitality areas of Creamfields 2017.
The 4-day electronic and dance music festival was staged at its regular site of the Daresbury Estate near Warrington, with Adlib working directly for creative production specialist LarMac Live. On site, Adlib Audio Designer, Hassane 'Hass' Es Siahi, and Project Manager, Kevin Byatt covered all disciplines of the festival.
The main PA comprised 12 A-side L-Acoustics K2 hangs, 32 L-Acoustics KS28 high power subs. The 12 subs on house right were stacked in a 4-4-4 configuration, while the centre cluster made up of 8 subs in 4 columns of 2, with the bottoms on the first and the third stacks reversed.
Four A-side ARCS II speakers also provided front fill, and for the outfield, Hass positioned three KARA A-side ground-stacked on flight cases, including a delay stack on the tent king-poles at the back of the FOH position directly facing the main entrance. Hass explained: "You have to be genuinely interested in the music to hit the spot with a dance artist. It's hugely more than two faders. What the DJ is playing changes second-by-second, it's a completely dynamic audio space, and the sound is like any musical instrument, you have to listen properly to how they are playing it."
Hospitality saw another Coda sound system design, featuring 8 Airline LA12 speakers with 6 TiRAY outfills, running with SCP-F subs for the main system, complete with Adlib's proprietary AA speakers for DJ monitors along with some Adlib MP4 wedges, and a Soundcraft Si desk for control.
Over 200 lighting fixtures, including Claypaky Mythos 2s and Stormy LED strobes, Ayrton Magic Blade Rs and Magic Bursts, Martin MAC Auras and MAC Viper Profiles were situated around on the pre-rigged fingers and audience trusses. While Chauvet Slim PARs provided front light on the DJ area.
Claypaky Sharpies and Stormy CC LED strobes, 4-lite Moles, Chauvet COLORband PiX LED battens, Robe LEDBeam 300s lighting fixtures were also utilised, with Martin Rush MH7 hybrids and a pair of Chauvet Colorado strips for illuminating the DJ, including 2 ZR44 smoke machines and 2 ProFusion DF-50 hazers.
Byatt concluded: "We always love working on this event being a Liverpool brand, popular, friendly and very well organised, we are very proud it's earned its place as one of the best loved dance festivals worldwide. We have a great relationship with LarMac Live, and Creamfields always involves a lot of suppliers collaborating and working together, with plenty of inter-company camaraderie and teamwork. I think this is one of the things making it a truly unique festival production phenomenon."