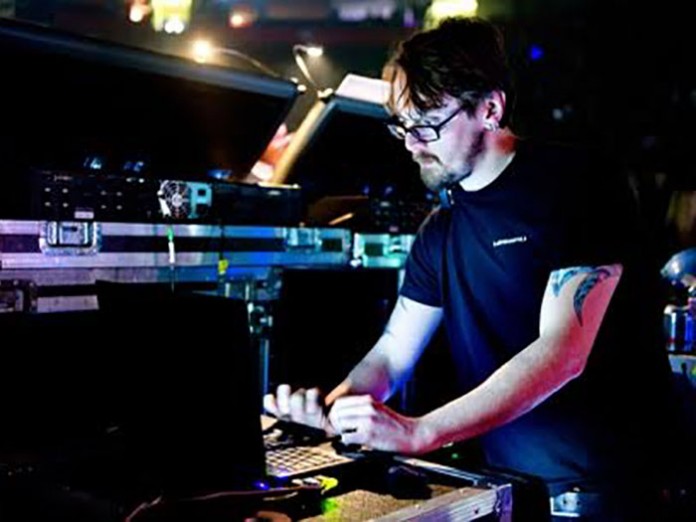 Adlib supplied an L-Acoustics PA for US pop-punk band All Time Low on their recent Back to The Future Hearts UK Tour, plus a support package for Special Guests Maryland Rock Band Good Charlotte, back after a long hiatus.
The PA system technician for Adlib was Alan Harrison, working alongside Adlib's Hassane Es Siahi, with Jay Petch looking after monitor world. An experienced and enthusiastic crew, the team all worked closely with All Time Low engineers Phil Gornell (FOH) and Ricky Fernandez (monitors) plus Good Charlotte's Jim Carmichael at FOH and Chris Cotten on monitors. Against The Current was the other support act. Both Phil Gornell and All Time Low production manager Dan Nickleski are big Adlib fans, and were keen to get the Liverpool company on-board for this leg of the tour – with Gornell specifying the L-Acoustics K1 system complimented by K2 side hangs for the (mostly) arena venue tour. Brian Southall is All Time Low's much respected Tour Manager.
Both bands are known for their lively and energetic stage shows, their no-nonsense, rambunctious 'big rock' sound, and hugely loyal fan bases. The standard PA set up was 14 x K1 elements per side with four KARA downs, with 12 x K2s for the side hangs. A dispersed sub array would typically comprise six SB28s at the stage right and left corers on the floor, and between four and eight more subs stacked in twos across the front of the stage, depending on the room size and stage-width.
Two stacks of KARA front fills were utilised. As the stage set was designed with a central thrust, these were positioned on top of the mid front-stage subs in the pit. Four ARCS2s a side provided in-and-out fills at the downstage corners radiating out to the sides beneath the main hangs. The subs were arranged for even dispersion. Harrison was particularly keen to cover the hardcore fan areas either side of the thrust near to the front of the stage with sub ensuring those congregated in these positions received the full-on low end experience characteristic of All Time Low's raucous rocky sound.
With that in mind, there was much emphasis on the general bass elements kicked out by the K1. The sub array was run more as an effect via a separate send from Harrison's control rack which was available for Gornell to dial-in to the mix at appropriate moments, adding weight as needed.
The reason they could use the subs in this fashion, explained Harrison, is the power of the 15 inch bass drivers in the K1 speakers which are ultimately controllable. In this case they were a key to getting that distinctive depth and punch required for All Time Low's sound. Relying on the flown low end elements of the K1 for the base bass – and always hanging as many speakers as possible – ensured more even bass frequencies all across the room. Stabbing in the subs as specials and accents then made a huge physical impact. The K2 side hangs were ideal because their 12-inch drivers retain the overall sonic clarity without adding additional mid or low end muddiness, instead boosting weight to the sound around the sides of the room.
The main system was driven by LA8 amps, with two dollies each side containing 14 amps for the K1, plus another rack of six a side to drive the side hangs. Phil's console of choice was a Midas PRO2 on which he used all the on-boards plus a Waves MaxxBass unit and a mix bus compressor. Gornell said: "We were relaxed and could really work to our fullest, safe in the knowledge, that Alan, Jay and Hass had our audio working exactly how we wanted it. Which allowed us to be creative, get on with what we do, and make the show special for the fans."
Adlib provided a KT-DN9650 Network Bridge to record the show via Dante to Gornell's laptop, and this was used daily for the virtual sound-check. One of Adlib's standard LM44 / LM26 processing racks was at the hub of the system for zoning and control, and the amps ran via an L-Acoustics Network Manager. Harrison used a combination of SMAART and SysTune for balancing. Ricky Fernandez specified the stage system which included another Midas PRO2 console through which All Time Low ran their own Sennheiser G3 IEMs and their own touring mics and cables, fed via an Adlib line system. Adlib supplied a couple of SB28 subs for low end atmospherics onstage.
For Good Charlotte, Adlib's package included a full complement of 12 x MP4 wedges plus an MP4 drum sub and a Soundcraft Vi1 console for their monitors, with a 48-way compact stage box, plus an Avid Profile for FOH. Adlib also delivered a full complement of mics-and-stands, primarily Shure, both wired and wireless.The Adlib team and the two artist crews, all totally hands on and including All Time Low lighting designer Jeff Maker, worked exceptionally well together. The days went smoothly and efficiently with enough time to get everything up and running and fully checked with time to spare. In additional to this, all the personalities gelled fantastically.
Adlib's Client Manager Phil Kielty stated: "We have had a phenomenal start to 2016 and as fans of these bands will know there is a great synergy between ATL, Good Charlotte & 5 Seconds of Summer, so we are extremely fortunate to work with all of these incredible live artists. Everyone here will agree working with Dan, Phil & co. is a pure joy and the band work so hard to give their fans an unforgettable, passionate & fun live experience every night that's why they have lasted so long!"