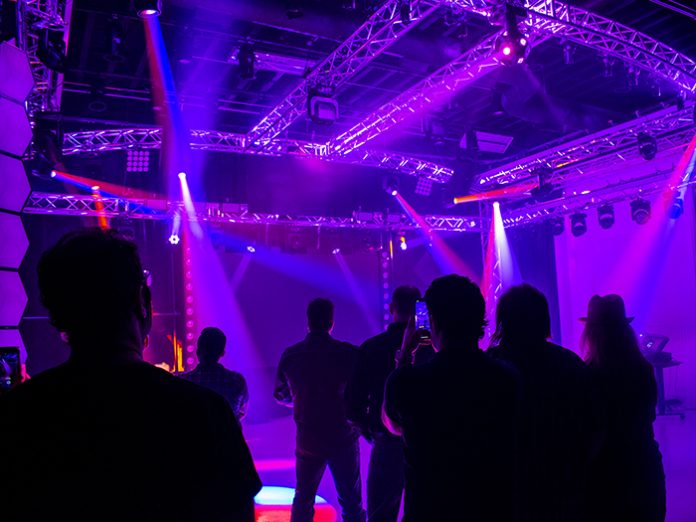 Ahead of the Winter NAMM Show in Anaheim, the ADJ group of companies opened up its LA-based global headquarters for a VIP Dealer Event. With lighting and sound demos, hands-on product training as well as free lunch, the successful event not only gave ADJ customers an exclusive preview of the new products to be launched at NAMM, but also allowed the company to show appreciation to its hard-working in-house staff and on-the-road sales team.

A free shuttle bus transported ADJ dealers between the Anaheim Convention Center and the ADJ Group HQ where the entire ADJ Sales team were on hand to demonstrate products and answer questions. Visitors had the opportunity to see seven new ADJ products before they were officially unveiled at NAMM as well as receive an introduction to ADJ Group's recently acquired Eliminator Lighting series. An audio demo space was also setup to allow customers to hear the brand new Avante Audio AS8 compact column speaker system and the innovative new Imperio versatile mini array system.
A brand new lightshow was also unveiled at the company's in-house showroom creatively programmed by new Showroom Manager Jake Rhodes, who took on the role during 2018. The impressive display, time-coded to music, showcased the vast potential of ADJ's range of professional moving heads, video panels and LED pars.
Lunch was provided by local Southern-Californian burger chain The Habit, whose food truck set up in the parking lot to offer delicious fresh-cooked meals for both visitors and the ADJ team. Staffers from across ADJ's corporate HQ were invited to join visitors for lunch, which not only provided an opportunity for the company's management to thank the team for their hard work during the busy lead up to NAMM, but also allowed customers to meet in person internal sales, accounts, service and other ADJ team members who they usually only speak with by phone or email.
"Our pre-NAMM open house was a great opportunity to meet our valued customers right at the start of another year," commented ADJ USA's National Sales Manager, Alfred Gonzales. "It not only allowed them the opportunity to be the first to see our new products but it also gave them quality time with their sales reps and the chance to establish relationships with other members of our in-house team. I'd like to thank everyone who attended the event for investing their time to visit with us, and also the ADJ team for their continued hard work. 2019 is going to be an awesome year!"