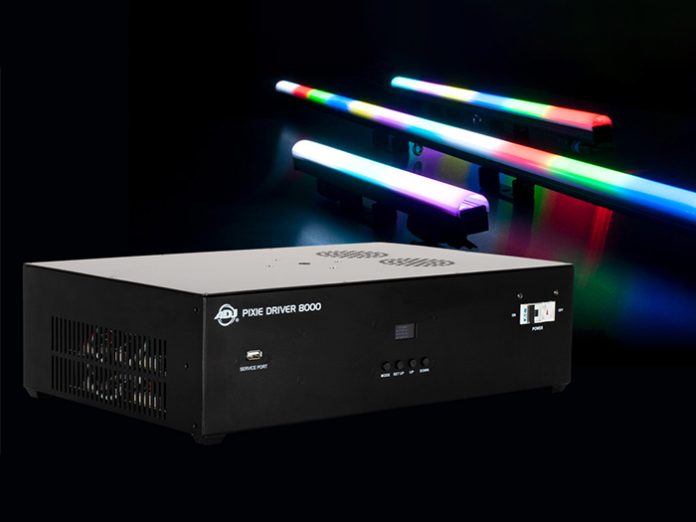 The ADJ Pixie Strip series is a collection of led pixel battens which combine vibrant leds with intelligently-designed housings to create a powerful and versatile system. that system has now become even more flexible with the addition of the new pixie driver 8000. this powerful unit receives a klingnet, art-net or sacn control signal and powers up to 8,160 pixels of pixie strips.
Four times more powerful than the existing Pixie Driver 2000, the new Pixie Driver 8000 model features eight independent output ports for connecting Pixie Strip fixtures using the system's proprietary 4-pin combined power and data connections. Each port is capable of driving up to 1,020 pixels of Pixie Strip fixtures using the KlingNet, Art-Net or sACN protocols. This means that up to 34 Pixie Strip 30s, or 17 Pixie Strip 60s, or 8 Pixie Strip 120s can be connected to each port.
"The ADJ Pixie Strip Series, launched in 2020, has proven popular with both production companies working on touring shows and one-off events as well as integrators involved with a wide variety of permanent installations," comments ADJ USA's National Sales Manager, Alfred Gonzales. "However, the one piece of feedback we have received from many customers is the requirement for a larger driver capable of running an increased quantity of Pixie Strip fixtures for larger shows and installations. The Pixie Driver 8000 meets this request in the form of a compact, portable, and user-friendly device that has been designed both with installation and touring applications in mind."
Power is supplied to the Pixie Driver 8000 via a standard PowerLock input socket and the unit features two ethernet ports for connection into a KlingNet, Art-Net, or sACN control system. All input/output sockets are located on the rear panel where there are also separate fuses for each output port and a safety eye, should the unit need to be flown within a lighting rig. For this purpose, the device is also supplied with a bolt hole and matching bolt to allow connection to a truss clamp (not included).
On the front panel is an OLED display screen which provides a menu interface, navigated using the four push buttons below. This provides easy configuration of the connected fixtures and chosen control protocol as well as providing access to manual RGB mode, which is ideal for testing, and internal programs that allow for standalone operation without the need for an external control system. The front panel is also home to a power switch and USB port, which can be used to quickly and easily load future firmware updates.
The Pixie Driver 8000 weighs an easily manageable 13.4 lbs. (6.1 kg.) and has measurements of 11.6" x 18.9" x 4.8" / 294mm by 480mm by 120mm [L by W by H]. The unit is fitted with rubber feet and is also supplied with rack ears, which allow it to mount in a standard 19" equipment rack utilizing 2U of space. Along with a standard power input cable it is supplied with a 10' 4-pin cable for connecting between the device and a Pixie Strip fixture – further fixtures can then be either daisy-chained from the first or connected to another port. For this purpose, a range of cables are available (sold separately) ranging in length from 1 to 50 feet (approximately 30cm to 15m).
The Pixie Strip Series can be used to create dazzling pixel-mapped displays for a wide variety of permanent and temporary projects. In addition to the new Pixie Driver 8000 and the smaller Pixie Driver 2000, it comprises three LED pixel batten models, which can be linked together in any combination to fit with the dimensions and design of a stage's set or venue's interior design. The largest model, the Pixie Strip 120 measures 2 meters (78.8") in length and features 120 tri-color RGB SMD LEDs. The mid-size bar in the series is the Pixie Strip 60, which is 1 meter (39.4") long and is fitted with 60 LEDs. Finally, the smallest model in the series is the Pixie Strip 30, a 0.5 meter bar that features 30 LEDs.
The Pixie Driver 8000 is shipping now from ADJ distributors and dealers worldwide.