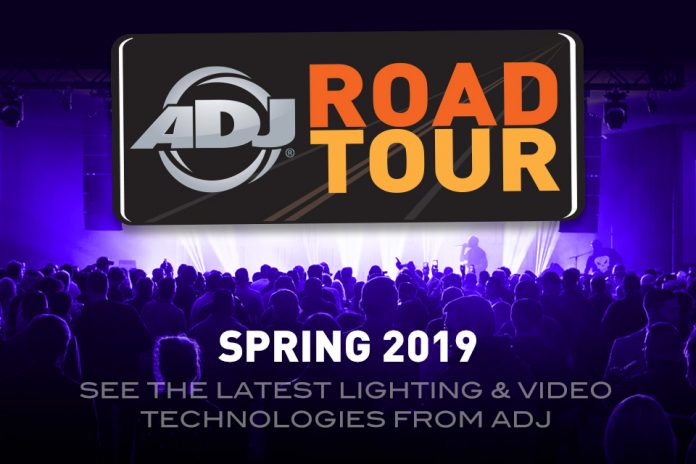 ADJ Lighting will be hitting the road this spring with four new ADJ Road Tour dates from April to June 2018, with more dates to follow, to demo their latest lighting, audio and video technologies.
ADJ Lighting has announced four spring Road Tour dates to demonstrate its latest lighting, video and audio technologies. The companies will highlight the latest lighting technologies that were on display at NAMM 2019, plus new products that will debut at Prolight + Sound 2019 in Frankfurt, Germany. All locations are open to ADJ dealers and end users and are free of charge. The locations announced are San Jose, Los Angeles, San Diego and Denver.
Other locations across the United States will be announced as venues are confirmed. "Our ADJ Road Tour events are some of the most rewarding things we do during the year," said Alfred Gonzales, National Sales Manager of ADJ USA. "We get such incredible feedback from dealers and product users. There's nothing quite like meeting one-on-one to demo ADJ products to installers, rental houses, event producers and mobile entertainers. ADJ has such a wide variety of lighting, audio and video technologies from almost every aspect of the entertainment lighting world."
ADJ will offer hands-on demos of the AV2 high-resolution video panels, plus the brand new Hydro Beam X2 IP65 rated beam moving head, Vizi Wash Z19 and Par Z Move zoomable moving heads, Entour Ice low-lying fog machine the Encore Burst Series of blinders. Along with food, beverages and SWAG, ADJ will conduct tech sessions so that users can gain a greater understanding of the products.