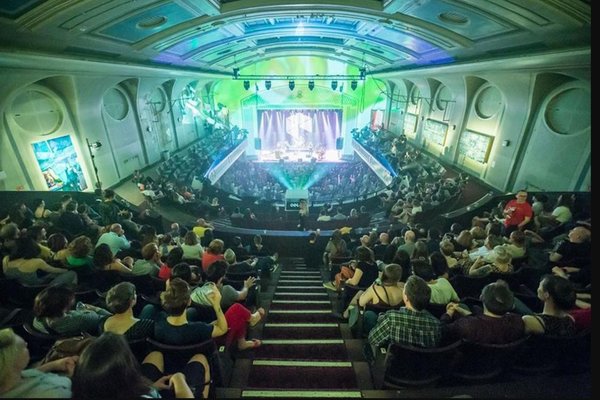 The Adamson S10 line array system supplied by pro audio specialist, The Warehouse Sound Services, guaranteed a party atmosphere during a charity screening of the seminal 1996 film Trainspotting.
The films author, Irvine Welsh, staged the fundraising party in celebration of the 21st anniversary of Trainspotting hitting cinemas, in an effort to reopen Leith Theatre after nearly 30 years.
Derek Blair from The Warehouse said: "It was such a privilege to be involved in this charity event. Leith Theatre is going to be very important venue for Edinburgh. To have a venue of that scale and calibre on that side of town is crucial. The event marked the 21st birthday for Trainspotting the movie, but importantly, it was also about putting Leith Theatre back on the map so the sound was critically important."
To ensure dynamic sound and a party atmosphere for this important fundraising event The Warehouse used 6 Adamson S10 line array loudspeakers and 4 S119 subwoofers per side, with S10 front fills, powered by Lab.gruppen PLM20K44 amplifiers running Lake Processing. New Shure Axient Digital radio microphones with KSM9 heads where used for speech and vocals together with a Midas Pro2 mixing console at front of house. Aidan Thomson from The Warehouse mixed the show with Graeme Brown as Systems Engineer.
Welsh also joined forces with arts collective Neu! Reekie! to stage the fundraise alongside iconic post-punk band The Fire Engines and celebrated US record producer and DJ Arthur Baker.
 
"Working with Leith Theatre Technical consultant Graham Wade, The Warehouse had to design an audio system that would work with a mix of speech, music and cinematography across a 1,200 capacity multi-levelled auditorium. The audio quality and dynamic flexibility of Adamson S10 system was a perfect fit. The system provided clarity and range as well as an incredible punch during the cinema screening and musical performances," added Blair.
Originally built as a gift to Leith after its controversial amalgamation with Edinburgh in 1920, the theatre was nearly destroyed in a wartime bomb blast and almost sold off in 2004 after falling into disrepair since its closure in 1988. The Leith Theatre Trust took over the lease of the art deco venue from City of Edinburgh Council last year. 

Welsh was unveiled in January as the patron of the Leith Theatre Trust, which has been given a lease with the city council while it raises funds to restore the building. Rod Stewart, Shirley Manson and The Proclaimers have since been confirmed as ambassadors.
www.adamsonsystems.com