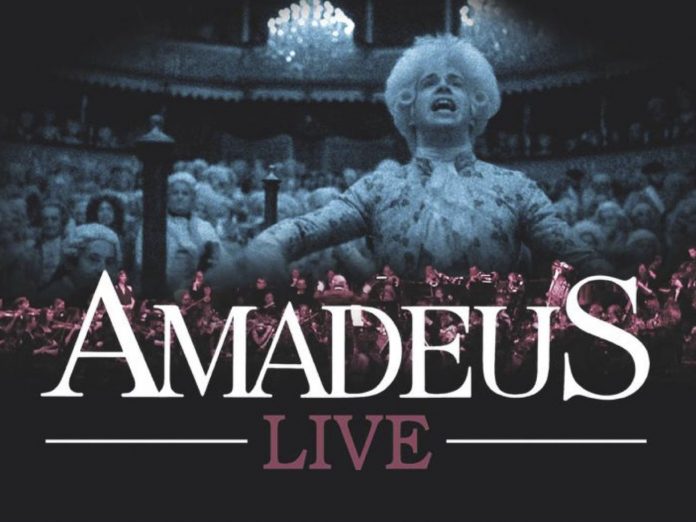 A cutting-edge Adamson S10 line array system supplied by pro audio specialists, The Warehouse Sound Services Ltd in conjunction with local sound provider A&R Martin ensured power, precision and audio clarity during the Royal Scottish National Orchestra's performance of Amadeus Live at Glasgow's Royal Concert Hall and Edinburgh's Usher Hall last month.
Winner of eight Academy awards, four BAFTAs and four Golden Globes, Amadeus is more than just a classic period drama with the best soundtrack of all time – it's a romantic comedy, a mystery and a tense psychological thriller. With Tom Hulce as Mozart and Oscar-winning performance by F.Murray Abraham as Salieri, it's also one of the most entertaining films ever made about classical music.
Last week, Edinburgh's Usher Hall and the Glasgow Royal Concert Hall held a remarkable screening with Mozart's incredible music performed live by the full RSNO and RSNO Chorus conducted by Ludwig Wicki.
Ludwig Wicki is a renowned Swiss composer, trombonist and also a conductor. He is also the founder and artistic director of 21st Century Orchestra, who perform special film music concerts and additionally collaborates with film composers. From Lord of the Rings to The Artist to Titanic, the music is brought to life in the "live to projection" concerts.
The Royal Scottish National Orchestra is one of Europe's leading orchestras with a history stretching back over 120 years. It is one of Scotland's leading cultural institutions, and an orchestra with a variety of work that is almost unparalleled amongst its British peers. Its superb education programme, the reputation of its recording back-catalogue, the loyalty of its audiences, and the passion of its musicians, staff and directors are key assets in building future success.
The RSNO chorus evolved in 1843 to form a choir. Today the RSNO Chorus is one of the most successful in the UK. As well as performing with the RSNO the choir also performs with orchestras throughout the world establishing an international status.
This was a very challenging sound installation for many reasons. Douglas Martin of The Warehouse commented;
"The two venues represented very different challenges both sonically and physically. We had to consider proximity of speakers to the orchestra players and microphones on stage while not compromising sightlines to the cinema screen hung upstage of the orchestra and choir. Adamson S10 gave me the flexibility to cover both venues with completely opposite rigging approaches while maintaining full coverage of all levels of the auditorium at all frequencies. The system is very transparent and works exceptionally well amplifying the orchestra with the punch to deliver the cinema tracks and FX with clarity when required"
A total of 24 Adamson S10 line array elements were flown in two hangs of 12 left and right of the stage. Four S119 subwoofers were also utilized to reinforce low end. All amplification was via Lab Gruppen PLM20K44 amplifiers using Lake processing and a Lake LM44 at FOH. A Digico SD10 mixing console was used on front of house with two SD-Racks and SD-Nano all running at 96kHz on HMA optical. The orchestra mics were predominantly Neumann with DPA and AKG while the choir mics were all Shure KSM.