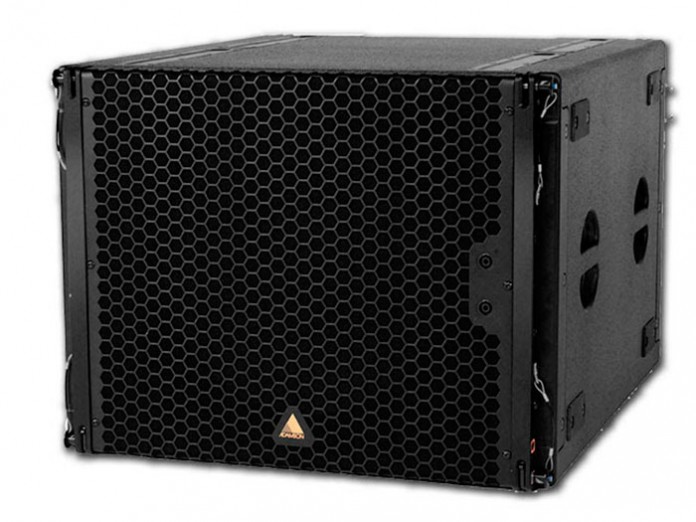 Adamson Systems Engineering has announced the E119 compact subwoofer, the newest member of the popular E-Series loudspeaker family. The E119 not only bolsters the low-end of the E-Series but also meets the demand for a powerful, compact sub that packs well into US and European trucks and sea containers.
Developed with input from Eighth Day Sound, the enclosure is loaded with one long-excursion 19-inch SD19 Kevlar Neodymium driver utilising Adamson's Advanced Cone Architecture and Symmetrical Drive Technology. The driver employs a dual 5-inch voice coil for exceptional power handling with a dual-spider suspension system for extra stability even under extreme excursion. The front-loaded enclosure is designed to reproduce clean, musical, low frequency information.
The slim, lightweight E119 allows users to achieve long flown arrays with greater directional control and a lower overall weight. Because the integrated rigging system allows for either 0° or 3° splay between adjacent cabinets, the array's directionality can be further modified while also helping end users keep sightlines open.
"Listening to our customer's needs is part of what makes our product line so strong," explained James Oliver, marketing and sales director for Adamson. "The E119 provides tremendous low end in a compact, efficient package that travels well here and overseas. It is an ideal addition to our flagship E-Series PA."
The subwoofer has already made its mark in a number of live sound and installed applications. It has been on the road with the Chris Brown and Macklemore tours and played prominent roles at the OVO, Landmark and Summer Jam festivals last summer. The popular San Diego nightclub Observatory North Park and Toronto's Sony Centre for the Performing Arts have both installed the E119 for permanent low end support.
The compact enclosure measures 572 x 749 x 889 mm (22.5 x 29.5 x 35 inches) and weighs in at 56.7 kg (125 pounds). With a frequency range of 30 Hz – 60 Hz and a maximum peak SPL of 138 dB, the E119 is sure to exceed the needs of sound companies and integrators looking for a compact, efficient subwoofer.
The E119 can be flown using the E-Frame Sub. The cabinet construction uses marine grade birch plywood as well as aircraft grade steel and aluminium, and is equipped with four Speakon NL4 connectors, two parallel In/Out rear plugs and two dedicated cardioid input connectors in the front. The E119 can travel on installed casters, or on a 3-high covered dolly.