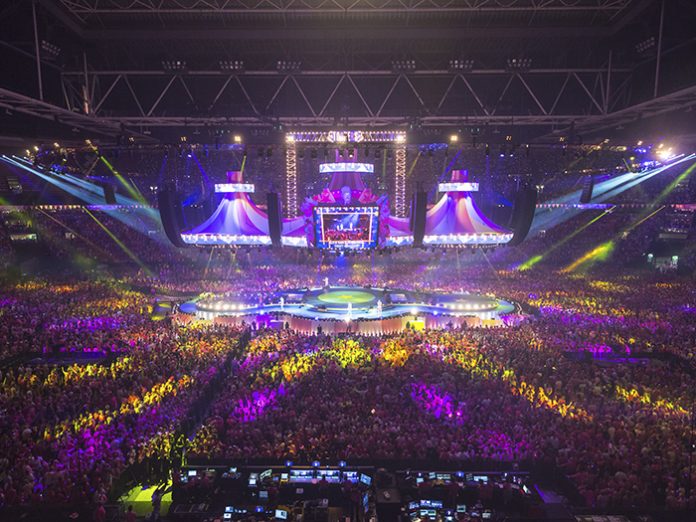 Every year, Dutch supergroup De Toppers take over the Amsterdam Arena for a string of shows. For 2018 Pretty in Pink – The Circus Edition concerts it was an Adamson E-Series system from Ampco Flashlight Rental that brought the hits to the crowd.
The foursome combined a circus-inspired stage design with a set list combining covers and originals for the one-of-a-kind experience. Presented in-the-round, the shows were supported by over a dozen flown Adamson E-Series arrays to ensure complete coverage and high-impact sound for every single seat.
"I loved mixing on this system," said longtime Toppers FOH engineer John Kriek. "This is a unique application considering the size of the venue, the in-the-round set-up, and the fact that people love to sing along. We needed great coverage, plenty of punch, and impeccable clarity to be heard over an arena full of fans, and Adamson's E-Series was totally up to the job. Also, many thanks to the Ampco Flashlight Rental crew, techs, and engineers. Reservations are already made for next year."
The system deployed at Amsterdam Arena included 12 main arrays, each comprised of 14 Adamson E15 3-way, true line source enclosures atop 5 Adamson E12 3-way, full range cabinets. An additional 8 arrays of 6 Adamson E119 subs in cardioid configurations handled the low end. Ampco deployed other cabinets from its inventory for the delay rings, fills, ground subs, and VIP sections.
"We've been supporting De Toppers at Amsterdam Arena since they began this special series of shows back in 2005," said Ampco Flashlight CCO and COO Dennis van der Haagen. "Every year, we're looking to one-up the experience for fans to create a really special night, and the Adamson system was integral to those efforts this year. We had crystal clear sound throughout the entire arena with headroom to spare, making for an unforgettable show."
Considering the elaborate set-up and unique configuration, Ampco technicians relied heavily on Adamson's Blueprint AV predictive simulation modeling suite to ensure every patron was engulfed in pristine, powerful sound.
www.adamsonsystems.com