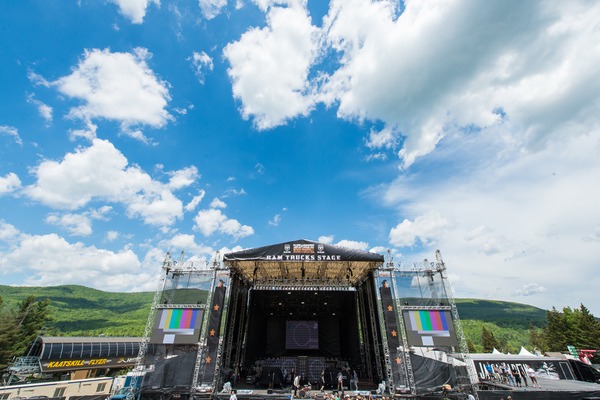 Every summer, country music's hottest acts head to Eastern New York's Catskill Mountains to perform at the Taste of Country Music festival, thanks to Atomic Professional Audio.
The team at Atomic Professional Audio ensured the main stage sound is as pristine as its surroundings with an E-Series loudspeaker system from Adamson Systems Engineering. "Atomic has been a proud Adamson house since the days of the Y-Axis series," commented George Perone, Atomic's Head of Audio. "Since the beginning, we've been impressed by every Adamson model we've heard, and we were an early E-Series partner based on that history of superior sounding loudspeakers. But on top of the sonic performance, we've also seen a substantial return on investment with Adamson every time we've bolstered our inventory."
On the main RAM Trucks Stage, which featured performances by Jason Aldean, Miranda Lambert, Sam Hunt, and others, Atomic deployed a system comprised of 15 Adamson E15 3-way, true line source enclosures per side with two SpekTrix cabinets as downfills and 20 T21 subwoofers per side kicking out the low end. Perone explained that the throw distance at the main stage is over 300 ft. uphill, and that the E15 covers that distance with ease year after year. "It can consistently take whatever you throw at it with zero problems," Perone added about the E-Series.
Kevin Margolin, the Founder of Atomic Professional Audio, said: "There are never any doubts or concerns about audio quality when it comes to Adamson," he said. "The systems' universal rider acceptance means we can maximize their use in all kinds of applications, including our large-scale festivals like Taste of Country, and see a great return on investment."
Established in 1994 and serving New England and beyond from its North Clarendon, VT headquarters, Atomic Professional Audio offers a wide range of production services, sales, and installations. In addition to the annual Taste of Country Music Festival, Atomic also services major events like Mountain Jam and Burlington, VT's Discover Jazz Festival.
Perone notes in closing that he and his team also value the ease-of-use of their E-Series inventory. "On load-in, the E-Series rigging system and presets get us trimmed, timed, and tuned incredibly quickly," he said. "The PA always sounds great and engineers for all genres and mixing styles are impressed, especially if it's their first time on an Adamson E-Series rig."