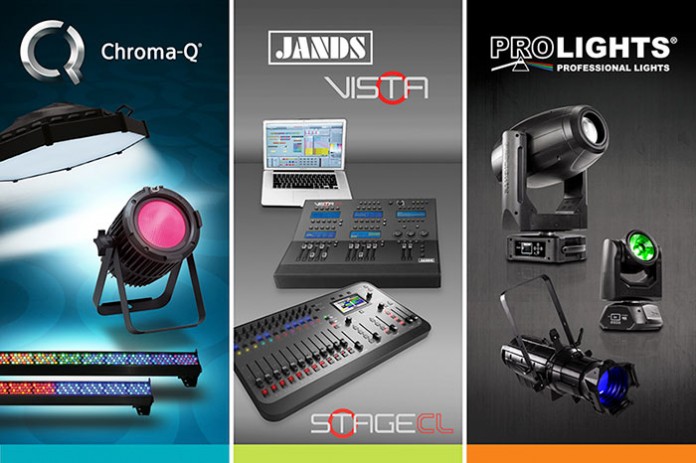 A.C. Entertainment Technologies, a 'one-stop' international provider of cutting-edge professional equipment with over 40 years' experience supplying to the industry, will showcase a selection of the very latest solutions available from their vast portfolio of over 200 premium brands – on stand A26 in Hall 5.0 at Prolight & Sound 2016 in Frankfurt, Germany.
Staff from AC-ET's International Sales division and specialist Product, Film & TV, and Technical Sales Teams, will be on hand to demonstrate and discuss leading technologies from a portfolio supplied to dealers, distributors and end users in over 80 countries worldwide.
The stand will feature the very latest premium performance entertainment & broadcast LED solutions from Chroma-Q. Designed and built to exacting standards in North America, the award-winning range has been adopted by many leading designers and specifiers for some of today's most demanding and prestigious lighting applications. Highlights include the innovative new Space Force LED space light; the Color One 100 and award-winning Inspire full colour-mixing, homogenous output LED PAR and LED house light solutions; the hugely successful Color Force multi-purpose LED washlights, and various models from the 'Studio' range of white LED lighting solutions.
Also showing are the award-winning Jands Vista lighting & media control solutions range and award-winning Jands Stage CL console for extremely simple control of LED lighting & dimmers. In addition, the stand will feature a selection of the very latest solutions from the extensive ProLights lighting family, which delivers exceptional products to the entertainment and events industries at an affordable price.
Other featured marques from the company's dedicated Film & TV, Lighting, Rigging, Audio and Video sales divisions include Spotlight's extensive, award-winning lighting solutions range; Mole-Richardson's family of LED-based fresnels; Manfrotto's vast choice of lighting supports – and Avenger line-up for cine market applications; Fiilex's hard light source solutions for location work; Rosco's Miro Cube series of compact LED washlights; Reel EFX's DF50 diffusion hazer; the Columbus McKinnon Entertainment chain hoists line-up; BroadWeigh wireless load monitoring solutions; Out Board high quality, low voltage and direct voltage chain hoist controllers; and Petzl PPE equipment.
The stand will also showcase AC-ET's in-house Cable Express service for fast delivery on specialised and custom data, mains, head to ballast, and multicore cable assemblies.