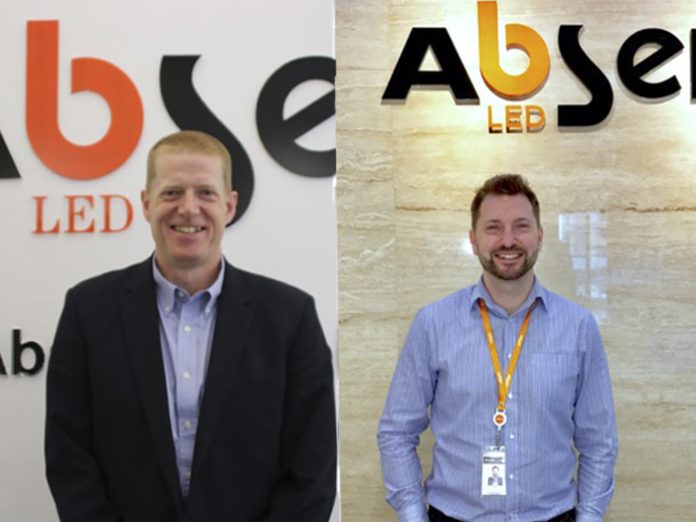 Absen Europe has announced the appointment of Liam Winter as Product Director and Michael Scott as Technical and Project Manager. Winter joined Absen Europe in July from PSCo, Absen's UK distribution partner, and as such is perfectly poised to take up this brand new role. With more than 15 years of experience in the AV industry in a variety of senior sales, business management and product management roles, he has a wealth of knowledge to draw on thanks to time spent with leading manufacturers of cutting edge video wall display technologies, as well as with users and channel partners in a wide range of fixed installation and rental markets.
With four years of product management experience as one of only two Absen Platinum (highest) level VAP partners in Europe, Winter negotiated PSCo's exclusive distribution agreement with Absen, and achieved number one LED distributor status for PSCo in the UK. Based in the UK but with frequent travel to Europe and Absen's headquarters in China, Winter's brief is to manage the customer experience end to end for Absen's European client base. In the role, he will work hand in hand with customers to determine their needs; stay close to the market to understand trends; communicate with Absen's Chinese headquarters on market demands; conduct training and host customers at headquarters and industry trade shows.
In his post since last month, Scott is based at Absen's European headquarters in Rüsselsheim, Germany, and will manage all aspects of Absen's Technical Service Department – defining processes and standards, providing direct supervision and leadership to all technical personnel, and establishing and training the local service and project management teams to ensure customers continue to receive the outstanding levels of service that are synonymous with Absen.
Scott joins Absen from world digital signage leader JCDecaux, where he oversaw a programme to standardise the configuration and software across its 2500+ digital displays. He has also held tenure with Clear Channel International, working alongside many international suppliers of LED displays to implement digital outdoor advertising in its infancy in America and Europe. Prior to this he worked on quality inspection systems in a 24/7 production environment, instilling processes and controls to improve performance and quality.
Commenting on the appointment of Winter and Scott, Ruben Rengel, Managing Director of Absen Europe and Oceania, said: "I'm delighted to welcome Liam and Michael on board, as our business continues to go from strength to strength. Their extensive industry experience and deep industry knowledge will be a great asset to Absen, as we consolidate our market position. Our customers are our lifeblood, and we are fully committed to bringing them constant innovation in our technologies, top quality in our products, and market-leading service."