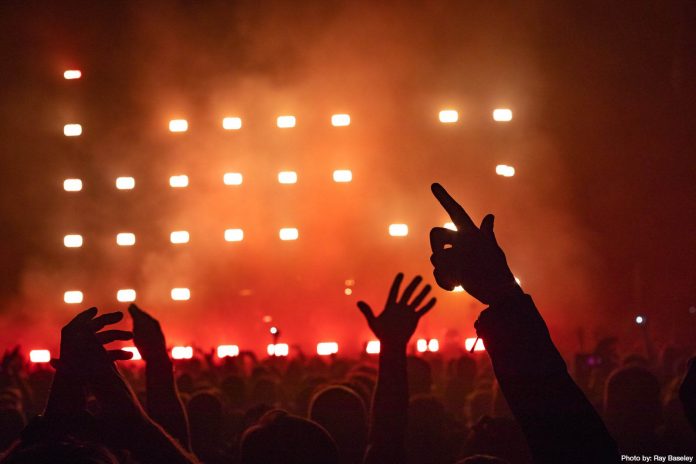 The Chemical Brothers UK, Europe and Mexico arena tour featured a set design which included 93 Flares from the tour's lighting provider Lite Alternative, with help from Dry Hire Lighting.
Show Designers Adam Smith and Marcus Lyall created an immersive visual experience for the synth duo, where "the visuals become the lead singer."
"Strobes are an integral part of Chemical Brothers' shows," explained Adam Smith. "For the 2018-19 shows we created a wall of them. Using Flares allowed us the flexibility to strobe into the audience, but also to saturate them in light as musically appropriate. Their incredible brightness and colours, plus their multi-use capabilities and reaction time, are what made us choose them."
Marcus Lyall added: "For arena shows the strobe wall comprised a 5 x 11 grid of Flares on custom wire ladders which went up on mid-stage winches at points in the show. With three more rows of 11, plus more on the stage and truss, we used a total of 93 Flares. We love the Flare's intensity and great saturated colours. They work well for strobing but also as a wash light. Their output really knocks people over!"
Toby Dennis, Production Designer and Technical Director for The Chemical Brothers, said: "The Flares gave us a multi-coloured strobe fixture that also satisfied the level of intensity we required. We used the four-cell mode for different shapes and textures giving us endless visual options to play with. The Solaris Flares are a true multi-purpose fixture, so much more than just another coloured strobe."
Lite Alternative's Jon Greaves asserted: "With the high demand for Flares these days, we're much appreciative of Dry Hire Lighting's support. They're the trustworthy, go-to folks to supply what we need when we need it. A little shy about taking credit, they are nevertheless 'silent partners' for many companies like ours – gaining little glory but much appreciation."
Located in Buckinghamshire, Dry Hire Lighting recently boosted their inventory of Flares to support lighting and production companies in the UK and Europe. "Our inventory is based entirely upon demand," said Dry Hire Director, Rob Merrilees, "and the Flare is definitely highly specified these days. We have over 2,000 intelligent lights in our inventory, all of which are tested and maintained to the highest standards. The Flare is an incredibly bright, in-demand fixture, and fits well in our rental stock."
Dry Hire is a "neutral partner" to professional lighting hire companies within the entertainment industry. Since 1990, Lite Alternative has provided lighting, A/V equipment and designs for concert tours, clubs, theatres, TV/film, corporate and special events in the UK and Europe. Certified for all aspects of production, including lighting, rigging, hoists, and scenery, Lite Alternative offers cutting-edge, contemporary stage and spatial lighting design, incorporating all aspects of lighting, video and stage production techniques.