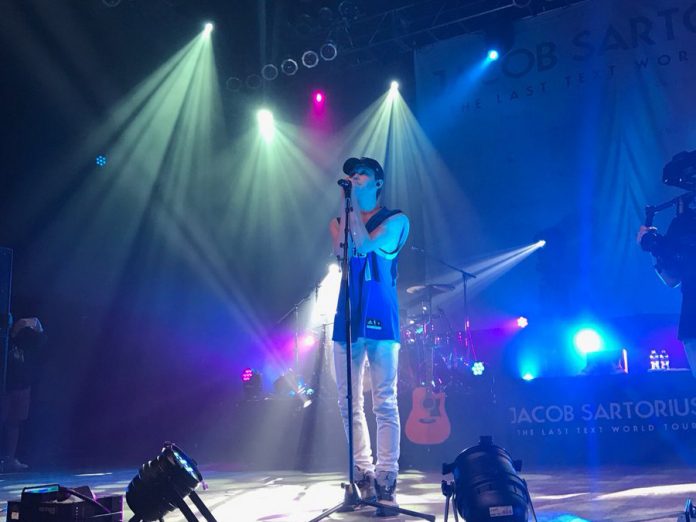 It's a scene Bandit Lites has grown accustomed to seeing over its near 50 years in the touring industry: screaming fans overwhelmed with excitement at seeing their idol live, and singer-songwriter Jacob Sartorius's fans are certainly enthusiastic, as his live shows this April showed. Hailed as the "new Justin Bieber," the fourteen-year-old embarked with a lighting package provided by Bandit for his headlining The Last Text Tour.
Sartorius's talent, connection with fans and charisma led to the teenager being the ninth most searched artist on Google in 2016, along with two singles landing on Billboard's Hot 100 charts. His single Sweatshirt independently achieved RIAA Gold status, 15.1 million Spotify streams and 70 million YouTube views, and with his new EP, The Last Text and subsequently named tour, Sartorius was able to interact with his fans in person, rather than online.
Bandit Lites supplied LD Lenny Sasso a package that could bring big, bright, energetic looks, assimilate to the varying stage sizes for the sold-out shows, and travel efficiently for quick and easy set up.
Sasso utilised mini beam towers across the rear of the seat topped with a Clay Paky Mythos, providing sharp, defined beam and wash looks. In addition to the Mythos, Bandit provided Sasso GLP X4S and Martin Atomic 3000 strobes for each tower.
Additional X4S units were placed along band risers and downstage left and right in 'shin buster' positions, while Mythos and Atomics and Bandit's exclusive GRNLite LED Pars illuminated the set and band.
Along the down stage edge, Bandit supplied Chauvet Geysers for smoke column effects, while a DF 50 was used for atmosphere.
"Working with the production team, tour manager Justin Collier and designer Lenny Sasso, has been nothing short of professional on all fronts," said Bandit Client Representative Shawn Lear. "Both are very concise and clear on how to tour and what it takes to travel and set-up in the variety of venues on the schedule. I look forward to working with either in near future."