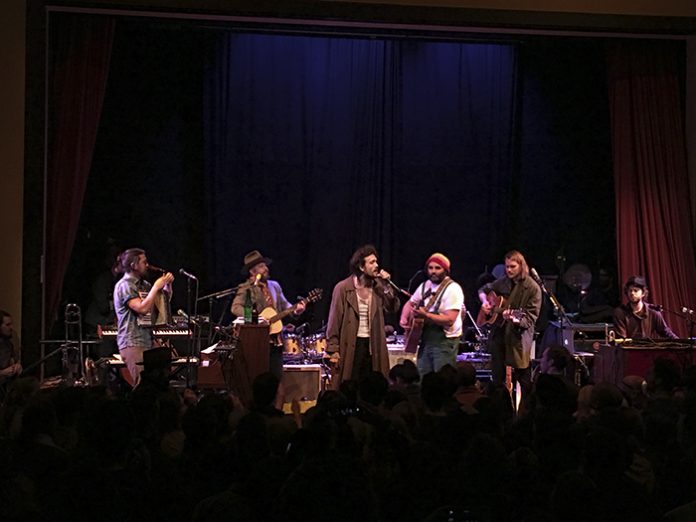 California-based PA company Rat Sound recently purchased an Allen & Heath dLive system, which was immediately put to work on a nationwide tour with Los Angeles based indie band, Edward Sharp and the Magnetic Zeros (ESMZ).
Formed by band leader Alex Ebert in 2007, ESMZ plays a wide range of original music that draws from folk, rock, gospel, and psychedelic roots. Promoting the band's newly released fourth album, PersonA, the tour is visiting venues ranging from smaller 'underplay' houses to larger auditoriums.
Comprised of a dLive S5000 control surface and DM64 MixRack, Rat Sound's dLive system is managing FOH and recording duties.
FOH Engineer Steve Taylor says ESMZ's 10 members are multi-talented artists who move from one instrument to another, often in the same song, resulting in as many as sixty microphone and direct sources in the FOH mix. In many venues, the band's stage is crowded and stage level is high, so even close-mic'd instruments pick up unwanted sounds making it difficult to separate individual instruments or voices in the mix. Taylor uses the dLive system to meet these challenges in creative ways that free the band to entertain audiences with their unique style of music.
For each of ESMZ's songs, Taylor sets up a dLive 'scene', assigning sources to faders and customising EQ and effects for that song's mix of instruments and voices. He tunes the dLive's input channel gates to trigger on the frequency range of individual instruments and voices. Then, he pans sources to the left or right and uses small amounts of delay to create "space and width" in the mix. Describing his mix as "conservative", Taylor uses special effects to achieve specific goals. For example, he may set the dLive's pitch multiplier to double a trumpet one octave down, making it into a horn section. And, he makes good use of the dLive's input channel parametric EQ calling it "unlimited" in comparison to other digital mixers.
Taylor records ESMZ concerts to a laptop in multi-track via the dLive's Dante card and in stereo to a thumb drive. He saves the entire dLive configuration to another thumb drive as a backup.
ESMZ's Monitor Engineer, Jerry Lopez, was so intrigued by the performance of the dLive that he switched to using a dLive S5000 surface with a DM64 MixRack as well while on tour. Lopez creates as many as 32 separate mixes sending them to in-ear monitors, side-fills and wedge monitors on the stage. He comments: "The beauty of the dLive is I can put the band's input list wherever I want it on the surface and the dLive has all the features I need to create my own work flow."
Lopez loves the sound of the dLive's "English preamps" and Taylor says the mixer is "cleaner and more defined" than other digital mixers he has used. Both engineers found the dLive easy to learn and love the drag and drop setup screens. Taylor says this is "early in the game" for ESMZ and he added: "The dLive will help us achieve Alex's goal of moving the band to the next level for sound and professionalism."