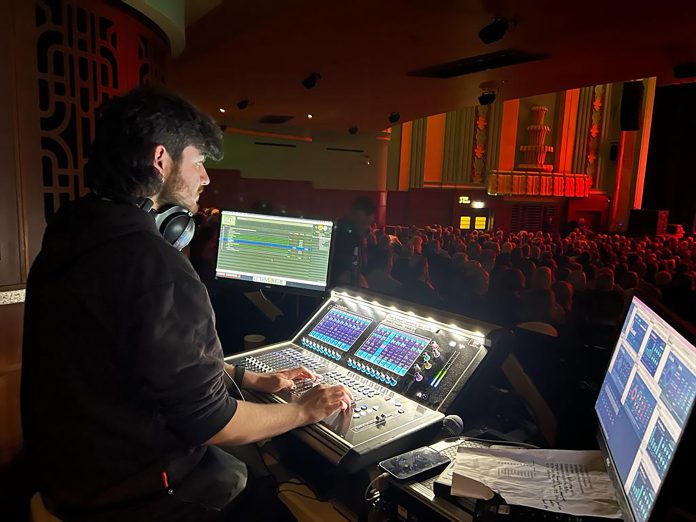 2023 saw the 50th anniversary of Tubular Bells, the iconic piece created by the acclaimed British musician Mike Oldfield that was originally released in May 1973 as the first album on Virgin Records.
To celebrate, Oldfield's creation was once again brought to life through a captivating tour spanning over 30 venues across the UK this spring. Spearheaded by Robin Smith, Mike Oldfield's collaborator and the musical director of the show, a mesmerising live rendition of Tubular Bells was performed by a talented ensemble of musicians. Show Works, a UK production company with an expertise in delivering immersive installations, musicals, tours, live streams and outdoor events, worked with the show's organisers to deliver an audio setup featuring a DiGiCo S21 console used by FOH engineer, Sam Ferstenberg, and S31 utilised for on-stage monitoring by Sam Manigley.
Show Works' managing director, Oscar Thompson, has previously collaborated with the tour producers at Fiery Entertainment on several other projects, including Rob Brydon's tour and the BBC Big Band. "We were approached about the Tubular Bells anniversary tour in September and got the green light in December last year. It was an exhilarating moment for us," he says.
To meet Fiery Entertainment team's needs for a portable system without compromising on sound quality, flexibility, and power, Thompson chose DiGiCo S-Series consoles. The S21 and S31 consoles stood out for their excellent performance and favourable price point.
"The consoles offered flexibility and various DMI cards allowed for seamless sharing of stage inputs between the FOH and monitor consoles," Thompson elaborated. "Their compact design made them easy to transport between and in venues, and aligned perfectly with the production requirements. We didn't have any hesitation in recommending these consoles and, in fact, we ended up purchasing the S31 from Adlib for the tour as well."
The tour primarily played large theatres and music halls, including Philharmonic Hall in Liverpool, G Live in Guildford, New Theatre in Oxford, Festival Theatre in Edinburgh, and Arena in Swansea, with seating capacities of up to 2,000 people. "With 32 performances squeezed into a tight 57-day schedule, a large band, live vocalists and backing tracks, some weeks were particularly challenging," Thompson exclaims.
With DiGiCo consoles already in their inventory, Thompson highlights the value of the manufacturer's software and firmware upgrades, which have proven highly advantageous for the team. Upon acquiring the S31, they promptly updated both the S21 and S31 with the latest firmware, unlocking enhanced versions known as the S21+ and S31+. These provided a significant boost in processing power and channel count, which proved invaluable for the Tubular Bells production.
Monitor engineer Sam Manigley, a long-time user of DiGiCo consoles, praised the S31's custom layout option, which allowed for quick and easy customisation. With 64 channels between him and FOH engineer Sam Ferstenberg, Manigley could manage multiple mixes, including IEMs and various groups. He found the console user-friendly and appreciated the intuitive and efficient setup created by Oscar.
"I could easily add elements like a dedicated percussion section, making navigation a breeze. It's similar to using an iPad, with its smooth drag-and-drop functionality. The speed and efficiency it offers are fantastic," he noted. "Along with 64 channels and five sets of IEMs, we also had personal mixers connected via the DMI card. I also provided stereo IEMs for the two percussionists and the bass player, who also served as a vocalist, along with my own PFL mix."
Manigley used Groups for percussion, cello, bass, guitars, piano. "We also had stems from the QLab rig for click tracks. So, there was a lot going on," he explains.
A fan of live mixing, Manigley prefers a hands-on approach, finding that extensive changes in effects like reverb times are often unnecessary in rock and roll bands. Mixing on the fly, he relies on his intuition, using a set list and notes to keep everything in order, focussing on maintaining a natural flow and referring to his notes for consistency.
The main challenge for FOH engineer Ferstenberg was finding a setup that was suitable for touring, but worked within the time constraints. "The S-Series provided us with a lightweight, 'plug and play' setup. The use of MADI, Dante and ME protocols was crucial as we ran physical inputs via a MADI-Rack and used a Little Red Box to split the signal to FOH and monitors," he explains.
A redundant Dante system was used for QLab playback and to send signal to the DQ20 amplifiers which had native Dante ports built in. The band's personal mixers were seamlessly integrated into the consoles. "I also used the analogue ports on the S21 for local monitoring and talkback, as well as the built in UB-Madi port for multitrack recording and outboard effects processing. It was easy to route inputs and outputs to any of the protocols we were using across the system. I've never seen a console handle signal flow as efficiently as the DiGiCo S-Series!" he says.
Ferstenberg was consistently impressed with the S-Series' functionality. "The intuitiveness of the recall safe menu for each channel meant I had full control over what I wanted to change between scenes," he says and adds that this, combined with the auto-update feature, was extremely useful throughout rehearsals and into the run, meaning he could change scenes from track to track and know he had a consistent sounding starting point every time.
For busier sections, such as the iconic 'Master of Ceremonies', Ferstenberg already had the percussion and rhythm balanced exactly how he needed it, so he could focus on mixing the lead instruments.
"Another useful feature was Spill Sets," he noted. "By default, I had effects aux's on my Spills, so I could change the level of my reverbs as required throughout, but with the use of recall safes, I had certain instruments on Spills for sections where I knew I would need to access regularly, i.e. vocal channels, and, it was very useful to be able to access these crucial channels at any point without having to flip through fader pages."
Ferstenberg also made use of the integrated UB-Madi port on the console. "Due to the nature of the tour, we had limited time during load ins, so I could use a multitrack recording of the show to start sound check while the band setup was completed. The 'listen to source' and 'listen to copied audio' macros meant I could seamlessly swap between the multitrack and the live band. I also used the UB MADI for outboard effects processing. I was very impressed with how easy it was to integrate digital reverbs and delays into the mix."
Concluding on a high note now that the tour has come to an end, Ferstenberg commends the tourability of the DiGiCo consoles, describing them as "exceptional".
"We only needed to use four ethernet ports on the FOH loom – network, MADI, Dante primary and secondary. This, combined with the weightlessness of the S21 meant I could set up the FOH position quickly and focus on the PA and onstage setup," he concludes.
"Many venue technicians were impressed with how easy it was to handle the consoles. The analogue XLR ports also provided flexibility to tie into venue PA systems if needed. I was also impressed with the versatility of the iPad app, which allowed me to have full control over the desk during PA tuning and sound checks. This feature made it easier to listen throughout the auditorium and ensure consistent sound quality across the venue. Ultimately, the combination of these features, along with the consoles' processing power, reliability, and user-friendly functionality, played a significant role in the success of Tubular Bells 50th Anniversary Tour."