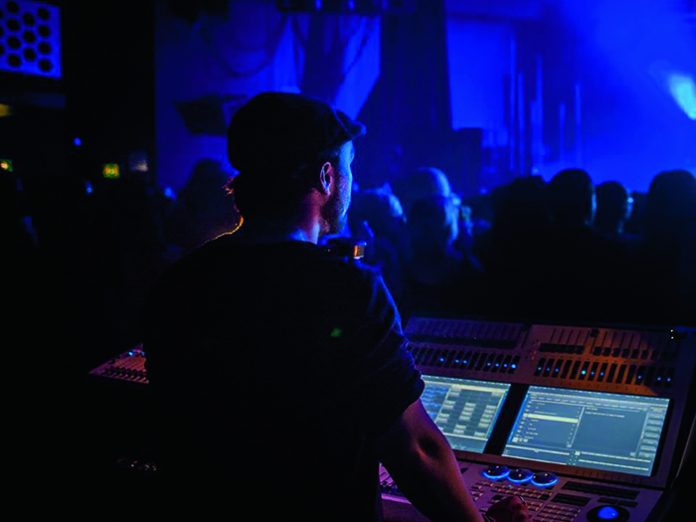 Starting with a new artist and figuring out which creative direction to go in can be a long, and sometimes arduous process. When you factor in that we were starting from scratch, working internationally and had next to no rehearsal time, it made this experience something else entirely.
Due to the band having touring commitments in the US right up until the their European summer festival shows, the first time they walked on the new set was on stage in Germany… in front of 60,000 people. This would have thrown some artists – not Bullet, they took it in their stride. It was at this point that the band's stunning show created by their former lighting designer was retired and my new production took over. It was also the first time the band's new(ish) bassist, Jamie, had experienced playing with pyrotechnics going off around him, who was once again unfazed.
I guess that it was a pretty nice vote of confidence from the band and their management to let me completely redesign the show, but after the first two shows I think that the consensus was that it was worth taking the risk.
Having said that, this really was a case of the new guy (me!) bringing in the most equipment; we had to up the truck size to accommodate the pre-rigged nature of this beast!
The new production set up wasn't without its teething problems though. When you're trying to take some rare time off – to plan your wedding in Italy for example! – the last thing you need is a phone call from the set fabricator saying that they can no longer deliver the set in time for the first show. As you can imagine, this was stressful to say the least. But, these things do happen. However, I managed to redesign the touring A-Rig over the phone – albeit with the wrong laptop!
We set the show up over two days at the new Cato Music rehearsal space in London, a simply stunning room. The production manager and I liked it so much that we've actually booked it for a few days later in the year before their Europe headline shows begin. Day one was mainly a build day with trucks coming in from Neg Earth and LS-Live, and day two comprised putting the finishing touches to the set and tidying up my show file.
We then headed off to the first show of the summer, Rock Am Ring in Germany. I'm not going to lie; I've had smaller first shows. And this year's festival was plagued by severe weather conditions. Whispers of there being 150 litres of water for every sq metre of site were beginning to surface. If that was fact, it's quite frankly nothing short of biblical!
The day before we played, 71 people were injured when stuck by lightning, so on our show day the organisers were understandably very cautious. Our stage was shut three times and had numerous delays. We finally made it onto the stage at 00.15am, but not before our set and lights had a good bath courtesy of Mother Nature. Luckily there was no major damage done. Alessandro Schillaci, our Lighting & Set Tech who was looking after the stage for me – plus everybody else involved – did such a fantastic job to overcome these complications.
Bullet's shows will continue through 21 different countries over the next seven months, but hopefully my biggest challenge will be finding a decent *cuppa…
Tom Campbell
*as in cup of tea, the only thing a British roadie cannot function without.