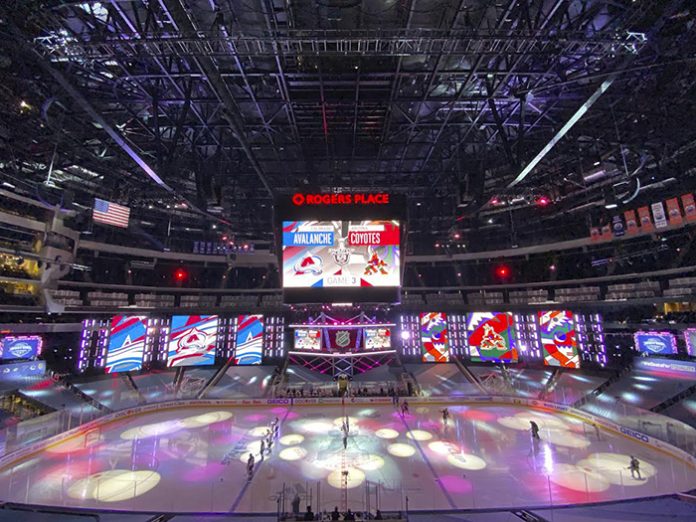 TMB Solaris Flare Q+ and Flare Q+ Linear lighting fixtures are playing a leading role in the National Hockey League's 2020 Stanley Cup. The clashes on ice began 1 August.
When Production Designer, Gary Wichansky and Lighting Designer, Tom Kenny got the call to collaborate on the event – on live TV with an empty audience – they knew their design must pump up excitement for the estimated 5million+ hockey fans watching at home.
The NHL Conference teams were quarantined and divided into two "bubble" cities: Toronto, with its Scotiabank Arena, and Edmonton, with Rogers Place. With near-identical set-ups planned in both arenas, they needed lighting equipment that could light large spaces, and in double the quantities.
The design screamed out for powerfully bright LED fixtures, with flicker-free performance for the cameras. Kenny enjoyed using Flare Q+ fixtures on many MTV VMA Awards and with The Who, among other projects. He had also seen the Flare Linear (LR) in many video clips. He checked with Canadian Production Company, Solotech, for quantities and, with gear now off the road from Taylor Swift and BTS tours, they could supply what he needed.
Kenny specified 132 Flare LR and 13 Flare Q+ in Toronto and 136 Flare LR and 13 Flare Q+ in Edmonton. Each set is massive, spanning half the arena. The long, rectangular Flare LRs are positioned in vertical rows between each LED screen to serve as a continuation of the visuals, or as "bookends," Kenny describes. The Flare Q+ are sprinkled throughout the scenery to add "punch."
Considering both the Solaris fixtures' qualities, their versatility "suited everything," Kenny said. "I needed something powerful to fight through the brightness of the ice rink lighting – although, with the Flares, I'm only running some of the looks at 20 percent! The color balance is so beautiful as well. They work perfectly for TV, too, and the cameras love them because when you look at them from the front and from the side, they really do have a 'flare.'"
He added: "We needed lots of gimmicks and gags for the goals, so the programmers love having these lights. They chase, flash and strobe really well. They are bright, versatile and beautiful. They cut through smoke and give a great (Stanley) Kubrick look."
The Cup programmers and lighting directors, who are also lighting designers in their own right, are Brent Clark and Kurt Wagner in Edmonton, and Corey Thom and Eric "Frenchy" Belanger in Toronto.
Clark, who is also LD for Barenaked Ladies, finds the fixtures easy to program. He's "amazed" by the fixtures' output, even while running at reduced power. "They punch like crazy," Clark says. "The colors are great and it's easy matching them to team colors on the video screens. When I ramp them up, the whole arena comes alive. With the proper grouping, I can create amazing chase sequences. They really are versatile."
While Kenny and Wichansky are being lauded with great reviews about the look of this year's Stanley Cup Finals, Kenny attributes it to a combination of relationships and products. "I've known TMB since the beginning," he said. "TMB has always brought us groundbreaking products and the Solaris range is top of that list."