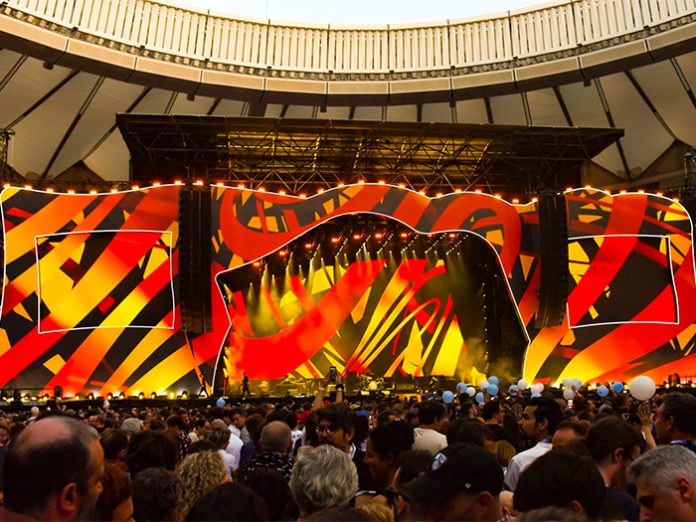 On Wednesday 1st June 2022, The Rolling Stones kicked off their SIXTY tour in Wanda Metropolitano Stadium, Madrid. This was the first gig of their whistle stop 60th-anniversary tour, which will see them visit 13 cities in Europe in just 2 months. It follows the band's critically-acclaimed 'No Filter' tour, which began in 2017 but saw the North American leg postponed due to the pandemic.
Having worked with the core production team on a number of Rolling Stones tours since 2002, including Bigger Bang (2005) and No Filter (2017-2021), Wonder Works were engaged once again by Production Manager Dale 'Opie' Skjerseth to take care of the technical design and coordination for this anniversary tour.
Designed to be toured for just two months throughout the summer, the brief for this stage set up was very different. Historically, the band's stage designs have always incorporated custom staging and in the case of No Filter a custom cantilevered roof and corner LED frames created a totally bespoke look. For SIXTY however, the production team chose, for the first time, not to tour the roof and instead to use local vendors at each location. This required Wonder Works to do an overlay of the entire stage set for every roof throughout the tour. With the hero of the stage being the graphic emblazoned aluminium and die-bond fascia, Wonder Works had to ensure that this worked perfectly for each different roof system. In total, 13 overlays (including a completely new design for the final show in Berlin) were created by Technical Designer, Kevin Edwards in order to ensure that the stage fitted under every roof.
Working closely with Opie, Creative Director Patrick Woodroffe, Production Designer Ray Winkler at Stufish, and Tour Rigger Jez Craddick, Jeremy was responsible for the coordination of all technical elements, in particular making sure that the show would fit into each of the 13 different roof systems being used on the tour. This included the technical design of the custom fascia, staging and rigging and the coordination of set, lighting, audio and video. Jeremy Lloyd, Co-Director, Wonder Works said:
"Since their formation in 1962, The Rolling Stones have become known for their super sharp, integrated staging and the challenge with this tour was to maintain this high level look without using a custom roof. It was an honour to work with such a brilliant and trusted team again to deliver another stand-out tour for the Stones."