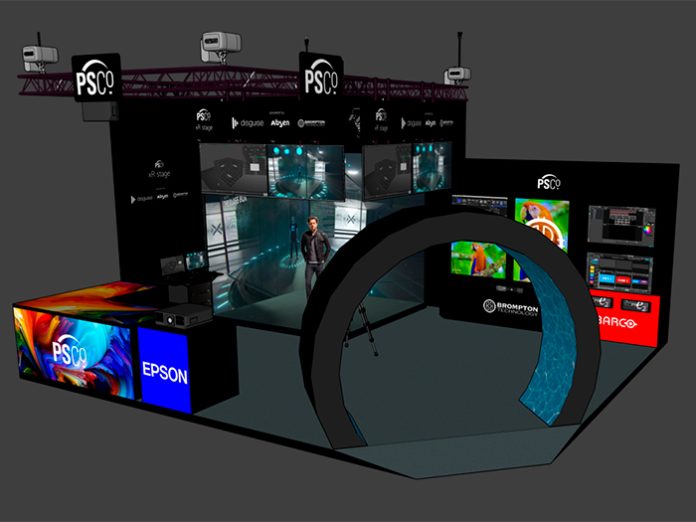 PSCo will return to PLASA Show at Olympia London on 4-6 September to present its virtual production offering for the live events industry, supported by new ecosystem partners disguise and Brompton Technology as well as new solutions from Absen, Barco, Aluvision and Epson.
PLASA Show is the leading tradeshow for live entertainment technology attracting some 3,000 rental companies and event professionals and 200+ international brands. PSCo will occupy 56 sqm of floor space, representing the company's largest presence at the show to reinforce its commitment to supporting the live event and entertainment market.
The star attraction will be a live xR stage to demonstrate the possibilities of extended reality for virtual production; powered by a disguise media server, Absen LED and Brompton LED processing. The show will present an opportunity for new and existing rental partners to learn about this new and exciting growth area and the opportunities it provides for their business.
PSCo will also be presenting the latest image processing solutions from Barco including the E2 Gen2 and S3 4K Tri-Combo presentation systems. PSCo has recently enhanced its partnership with Barco and significantly expanded its fleet introducing a range of Barco EventMaster products for trade rental, which will complement PSCo's extensive range of LED and projection display solutions.
Visitors will pass through a unique LED tunnel integrating Aluvision's Hi-LED R1476 product, part of the award-winning Hi-LED 55 series. The range of Aluvision LED tiles are incredibly versatile and can be used as conventional flat LED wall, in floor, curved or cube configurations and can all be incorporated into the Aluvision modular frame system, a popular solution with stand builders for exhibition applications thanks to the reusability and cost-saving benefits versus traditional custom build.
Also on show will be the new EB-PU2220B from Epson, known as the "world's smallest and lightest 20,000 lumens projector". Sixty percent smaller and 50% lighter than its predecessor, the new Epson projector is a game changer for the industry and visitors will have an opportunity to get hands-on with the product and see it in action on the PSCo (G21) and Epson (A1) stands.
On display will be the UK's best-selling LED rental series with Absen Polaris PL2.5 Pro 2.5mm powered by Brompton Technology processing, which will be utilised for the XR stage experience and PL2.5 Pro Novastar with seamless edge panels on the front reception desk area. With events back in full swing, PSCo have over 600 sqm of brand new PL2.5 Plus, PL3.9 and PL3.9 XL products arriving in Q3 and 300sqm of Brompton configured PL2.5 Pro which will be available to buy or hire, so visitors will be able to pre-order at the show.
PSCo has also partnered with PLASA to supply multiple Samsung professional flat screen displays for the event.
Tom Allott, Asset Manager at PSCo commented: "We are looking forward to meeting trade rental partners from across the live events industry at PLASA to announce some exciting new vendor partnerships and present them with our expanded range of display solutions, including award-winning LED from Absen and Aluvision, Brompton LED processing, Epson laser projection, Barco image processing and disguise media server solutions, to meet all your event needs."
PSCo will be at Olympia London on stand G21. To register for the event, please click here.