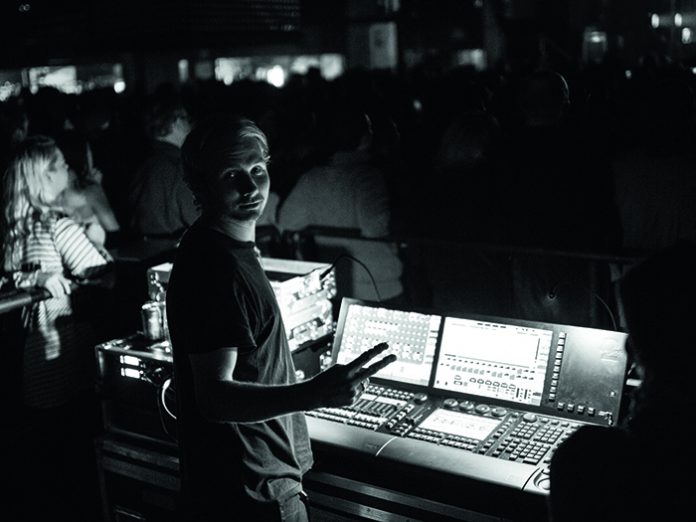 I joined the Passenger crew as Lighting Director in September 2016 after coming the attention of Okulus, the lighting and show designers, while working on Jack Garratt in autumn 2015. The Passenger campaign was kicking off with three weeks around Europe followed by a similar length UK tour and we continue around the rest of the world early in 2017 with Asia, Australia and America.
It's the first time Passenger star Mike Rosenberg has toured with a full band, having toured extensively as a solo artist until now. This presented somewhat of a blank canvas for show designers James Scott and Louis Oliver, who had previously designed the shows revolving around Mike as the only person on stage. Their design incorporated three flown trusses to hang Martin by Harman MAC Viper Profiles and Claypaky a.leda B-EYE K10's as well as 90 custom made fabric drops that had to be individually positioned on the rig each day. There was a substantial floor package incorporating more B-EYEs, more Vipers and multiple Martin VDO Sceptron units. The B-EYEs and Sceptrons were rigged horizontally across four vertical truss towers positioned upstage of the band's risers. The system was controlled from an MA Lighting grandMA2 light console and incorporated a Green Hippo Karst media server to provide content across the upstage Sceptron and B-EYEs. The gear was supplied by Mike Oates at Lights Control Rigging and we were really lucky to have lots of brand new equipment.
Critically, the system had to be scalable from large club to arena size venues across Europe. We played our biggest show at Amsterdam's Ziggo Dome and our smallest, Barcelona Razzmatazz, within a week of each other! I was extremely busy finishing off a hectic summer festival season in September so it was a challenge to fit the tour prep in, but on reflection, the care and attention myself and the production manager, Simon Kemp, paid at this stage really paid off when it came to moving through venues of such varying size day-to-day.
This was a one truck, one tour bus operation, which meant we were very limited on space and there was only room for myself and one lighting technician, Jake Jevons, to rig and operate each day.  It was a very busy day for me as I was operating the show as well as looking after the touring support act so there was very little downtime on show days. Thankfully the tour had a somewhat forgiving schedule which meant we had plenty of days off in lots of interesting places.
If I was to choose my favourite show of the tour it would have to be Vicar Street in Dublin, which if you had asked me would we get the full rig into at first glance I would have given you a firm no. However although it took a little longer than our average load in, the rig went in and the two shows were really special, perhaps down to the magic of this compact but lovely venue and a few pints of Guinness.
The first part of this world tour has gone really well for everybody. Passenger's album beat Bruce Springsteen to number 1 the day before our third show which has kept everyone in high spirits and there has been a great sense of moral and camaraderie amongst the band and crew. As usual there have been good days and bad due to some of challenges mentioned above, not to mention having to take the entire rig up and down five flights of stairs in Prague! I'm really excited to be heading off around the rest of the world in the new year notwithstanding the challenges that making this design work in places like Asia and South America pose.
Jake Vernum