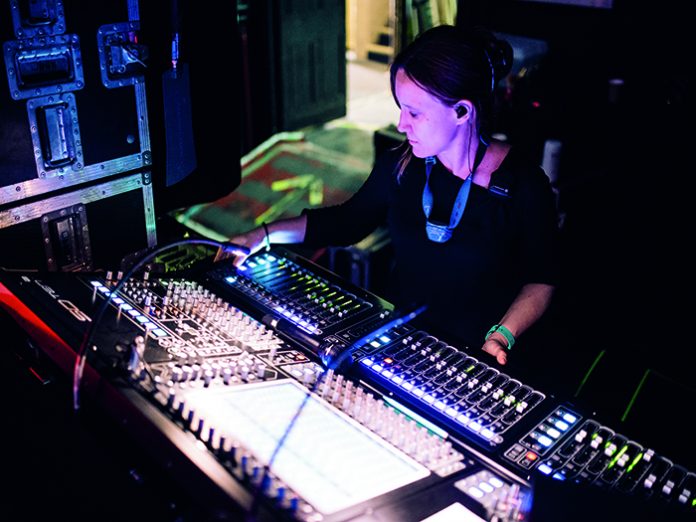 FOH Engineer, Gatecrasher Classical
Having been in the Industry for nearly 20 years, one of the most enjoyable things about my job is the diversity of genres you get to work on. Over the last year, I have done quite a few of the classical / dance shows that seem to be cropping up. Having spent the last year mixing FOH for Haçienda Classical, Gatecrasher Classical was a new project. Although it was a new production, I was working for Wigwam, and therefore working with some familiar faces and some of my favourite people with some of my regular crew who look after monitors, Logic, and patch – plus a great system engineer.
On the prep day, I started by unloading our truck with the rest of the crew at Sheffield City Hall – the city is the historical home of Gatecrasher.  It was 7am and it was going to be a long day for us – but an enjoyable one. The house crew were happy to see some familiar faces and it was a smooth start to the day for audio. We were in and had our PA ready to go up on the grid there nice and early.
Both myself and my System Tech, Craig Burns, always liaise about system design – it's crucial with so many instruments on stage. We had decided on a split system design, flying d&b audiotechnik V boxes including flown subs for the balcony and having a ground stack of V for the floor, complemented by J-SUBs and J-INFRAs. This may have been an orchestral show, but the sub is so important.
At FOH, I had my DiGiCo SD7, Maggie. I named my deskafter The Simpsons' character. I was also multi-tracking the show with my MADIface interface and mac mini, this was our production day (thankfully). It was a tight squeeze at FOH. Along with my SD7, we had our drive rack, lighting console and lasers too – I was very busy! It was a seated show, well it was meant to be, but no one was going to be sat down at this dance show! 
The show day was never going to be straightforward. With a sound curfew in place until 3pm and the orchestra only booked from 3.30-6.30pm, we had our work cut out. However, we made it clear to the conductor and the production team that nothing could be done until we had the system aligned and tuned. 
The rest of the crew and I got on with the process of setting up the many microphones on stage, double miking the strings – DPAs and Schertlers – which was necessary for the level I needed for the show. We did our silent line check and tested all the logic lines from the session. I also had my Genelec nearfields so could at least have a little listen to the playback content. Anything to get ahead!
3 o'clock came and within 30 minutes, we were ready to start our sound check with the orchestra. Both myself and monitors asked the sections to play first and then run a piece so that the musicians can check their IEM mixes and click levels. We had no wedges on stage, as we needed to keep it as clean-looking & neat as possible. By 4.40pm we were running tracks and bringing vocalists in to do their pieces with all of the musicians on stage.
We hadn't stopped at any point, but the results were great. I love the SD7 for laying out a mix for this kind of show. It never feels busy and I can easily get to my orchestral stems. We all run the consoles on a loop so our Monitor Engineer, who was using an SD10, could get stems off me, as could our Logic Tech, who utilised an SD11i.
It was 6.30pm and we had managed to get a full run through, which I had also multi-tracked. The orchestra was already packing up, but I could carry on with my checks. We had a show the next day but were in a great place to start.
By 9pm we were ready to go eat some food and wind down before our start the next day. Mixing orchestral dance music is a challenging prep day, but also so fulfilling as an engineer. I'm really happy working on days like this, especially with the crew we had.
Françoise Le Moignan