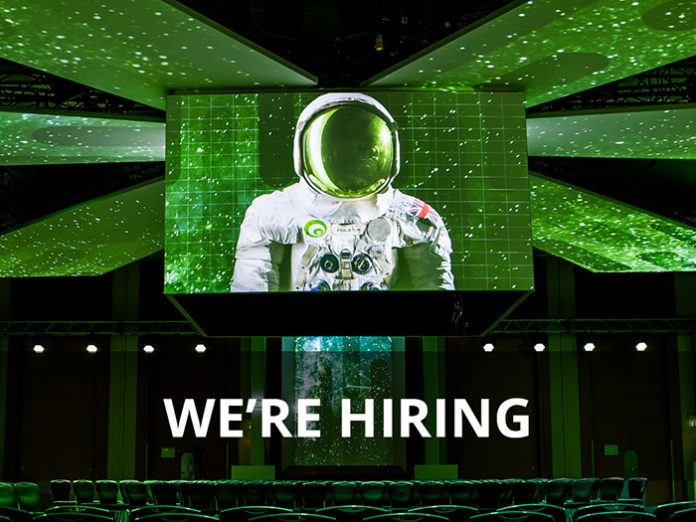 FIX8Group have a number of new and exciting opportunities for the right person to become part of this ever-growing business. FIX8 is a vibrant, innovative, design and visual technology-driven event production company with an end to end approach to delivery. Involved with major brands within Corporate events, conferences, music, Formula 1, technical development of new solutions and all-round production and event management.
In the role you will have the chance to increase your AV experience whilst delivering fantastic events. Ultimately, your success will be demonstrated by successful execution and creation of fantastic looking events.
It offers a highly competitive salary commensurate with proven experience with additional add-on benefits, exceptional working conditions within a modern purpose-built facility in Denton, on the outskirts of Manchester and encourage continual learning and development, backed by being an Investors In People accredited business. We operate on a global basis so at times there may be international travel.
Due to its continued growth, FIX8 recruiting a key individual to assist with the delivering AV solutions as determined by the project specification which can involve complex, multi-discipline projects and adapting to client changes during the event. This will be a multi-discipline role covering audio, lighting and production and development opportunities lie within the role. You will be managing the Warehouse and associated operations ensuring technical equipment is managed, maintained and made available for client events. Ensuring the logistical operation for equipment is effective for the right kit to be in the right place at the right time. Staff responsibility for the warehouse team and close working with the Project Managers and on-site delivery team
Main Responsibilities:
• Keep abreast of changes in AV Technology in order to develop innovative and new ideas to clients as the business strives to be ahead of competitors in the arena in which it operates.
• Operating as a key member of the team delivering any and all matters relating to the project.
• Build and maintain strong, long lasting relationships with the suppliers, freelancers and internal colleagues.
• To develop an understanding of what technical equipment is required to undertake each event to deliver the client solution.
• Leading the Warehouse team to ensure a well organised and fully functional warehouse is delivered at all time.
• Ensuring the correct kit is picked for each event; that it is in full working order and maintained before packing; logistics are organised to ensure the equipment is loaded and received at the event in a timely manner.
• Responsible for receiving equipment upon return from a client event/dry hire and de-prepping/ensuring faults are rectified immediately and the equipment is in correct working order for the next event.
• Reporting any defects/damage and preparing suitable documentation and evidence for onward recharging to the hirer where appropriate.
• Plan and schedule project milestones, timelines and the critical path utilising suitable tools.
• Undertake Risk Assessments for all on-site Warehouse activities, ensuring compliance with the most upto date Health and Safety legislation.
• Ensuring relevant quality standards are introduced and maintained along with pushing for the 'best-in-class' presentation of the facility.
We are looking for a minimum 3 years experience managing a warehouse and associated team. Ideally within the AV industry or within a technical product environment. A knowledge of service, repair and maintenance of audio visual and lighting equipment is desirable. Effective interpersonal skills and expertise of Office 365, Excel, and adobe suites. A fork truck licence and health and safety qualifications would be of significant benefit. Holding the latest electrical qualifications is highly desirable and ideally qualified for BS7909 certificate in temporary electrical installations. Self-motivation, organisation and a willingness to work hard for a team in achieving an end goal as essential.
If you are interested, please send a covering email along with your CV and salary expectations to careers@fix8group.com