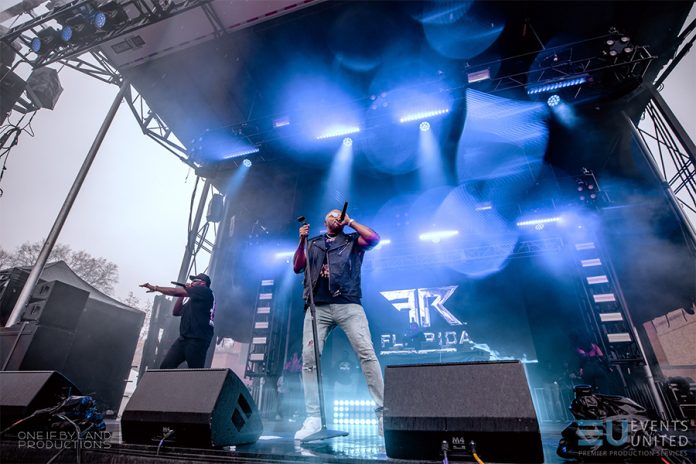 Most often, festival LDs can take solace knowing that eventually the sun will go down, freeing them to create eye-popping looks in the dark. The team at Events United had no such luxury. They had to create sizzling looks for one of hip-hop's most dynamic artists on a small stage for a show that took place entirely during daylight hours.
Anyone who saw Flo Rida's appearance at Boston College's Marathon Monday would readily agree that the bold lightshow by Events United perfectly matched the music and the moment, even though both took place in the early afternoon.
"This was the second year we lit this event for One If By Land Productions," said Director of Event Productions, Chase Clark of Events United. "Boston College puts this event on to keep their students on campus during the Boston Marathon. Last year, Jason Derulo performed; and this year it was Flo Rida. Since the show takes place the same time as the Boston Marathon, our challenge is to create eye candy that looks sweet in sunlight."
Clark acknowledges that overcast skies helped with the effort this year, but most of the credit for the bold and engaging show goes to the Events United team's adroit use of a muscular rig that featured over 60 CHAUVET Professional fixtures, as well as 36 F4IP LED video tiles. Included among these units were 12 Color STRIKE M motorized strobes, 12 Maverick Storm 1 Washes, eight COLORado PXL Bar 16 motorized battens, eight Nexus 4×4 LED panels, six, STRIKE 4 blinders, eight Maverick MK2 Washes and eight Maverick Force 2 Profiles.
"This design was all about the eye candy on the stage and not having light in the air, because there is only so much you can do to outshine the sun," said Clark. "Having a well-layered design with a lot of fixtures certainly helped. Our upstage and mid-stage trusses were loaded with Force 2 Profiles and MK2 washes, while downstage was full of PXL Bar 16s, STRIKE 4s and strobes. In addition to that, we had the Nexus 4×4 skirt on the DJ riser, and vertical trusses full of Color STRIKE Ms, which we strobed like crazy. Put it all together, and you can understand why the possibility to create sweeping pixel based effects, punchy beams, and other looks was infinite, even with the ambient light."
Among those infinite looks were the pixelated eye candy and tight beam movements from the downstage Maverick Storm 1 Washes. Others included the smooth linear chase effects created with the COLORado PXL Bar 16 units.
A robust punt file made it easy for the design team to keep looks varied and interesting during the 60-minute show. "With all the firepower this design had to offer and our punt file, it became all about paying attention to what video was doing and working to make the looks match the energy that the artist was bringing to the stage," said Clark.
A muscular rig and full punt page are only two of the reasons why this show was a success according to Clark. He also gives credit to the Events United team, which included manager and A1 Donald Van Slyke at FOH, A1 Blake Rivera, A2 Andrew Johnson, production designer Jonathan Martell, L1 Ryan Lane, L2 Rachel Fahey, L2 Meg Fiske, V1 Wes Messina, V2 Jack Redding, photographer Shaylyn Kelly, and videographer Pat Dunn.
"This team really pulled together throughout the whole process," said Clark. "This was especially true during setup when it rained."
Rain during setup. Ambient sunlight during Flo Rida's performance. The elements might not always cooperate, but a good production team can pull off the show every time — especially when it's backed by a potent rig.