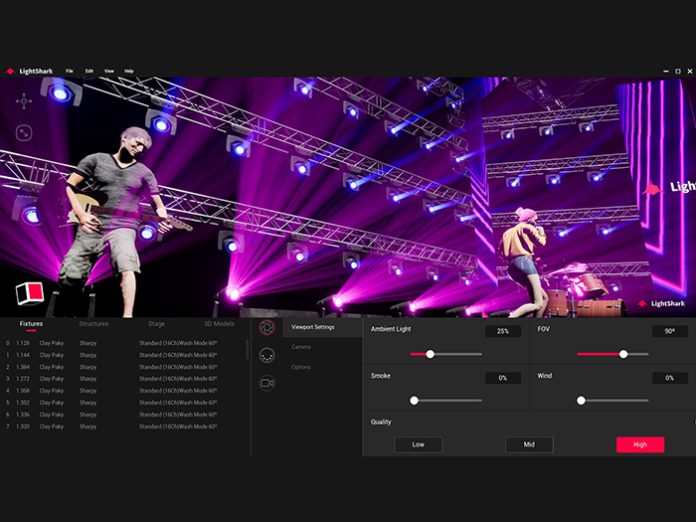 Spanish manufacturer Equipson has launched LightShark RAY, a new software addition to its popular LightShark range of DMX-based hardware lighting consoles.
On show for the first time at LDI 2022 in Las Vegas, LightShark RAY is a visualisation software that uses state of the art simulation technology to help LightShark users improve their experience of the product range.
Initially developed as a training tool, LightShark RAY covers various scenarios and allows users to experiment with different lighting set ups by choosing different preconfigured file and pre-patched fixtures. They can then apply their choices to their own projects in a very simple way.
Juan Jose Vila, CEO of Equipson and the LightShark brand, says "We decided to create a visualizer after customers asked for a feature that would help simplify their interaction with LightShark. Although it has been a complex project for our development team, we think it is worth the effort as the results are exceptional. It also follows our company philosophy of giving customers the tools they need to succeed in their job."
LightShark RAY will initially offer fixed scenarios, but it is hoped that a scenarios editor will be ready by the summer of 2023. The software features already available include up to 16 universes reception with ArtNET or sACN and a built-in fixture library. There is also an object library with trusses, stages, etc, and plans are in the pipeline to add GDTF libraries to future software versions.
Currently available for PC uses, and with MacOS coming on stream soon, LightShark RAY can also receive video from its built in NDI input, which not only serves to stream a video file but also makes it possible to capture images from external cameras. Users can record visualizations with the screen recorder feature, and they can customise their visualization experiences with configurable parameters such as smoke density, wind speed for smoke movement. In addition, there is an ArtNET/sACN monitor and DMX controlled cameras positions with four configurable position presets. The render quality is automatically adapted according to the computer capabilities of the end user, and the number of FPS can be displayed.