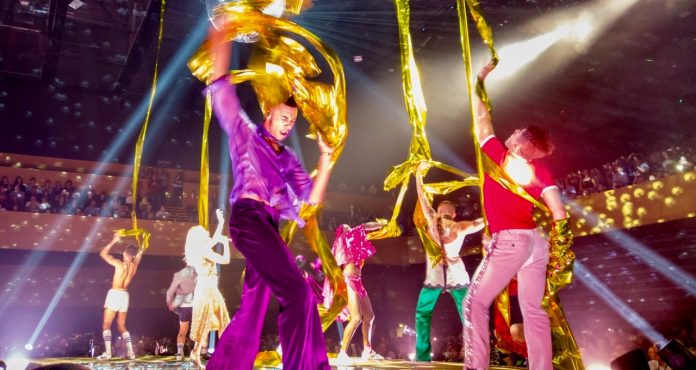 Among a wealth of innovative laser choreography and dazzling special effects for Kylie's recent Golden Tour, award-winning ER Productions used a two-stage Electro Kabuki drop to reveal golden mylar streamers, before dropping them to the stage.
As the official supplier of lasers and SFX for Kylie's 15th concert tour, ER Productions rigged 16 of its Electro Kabuki dropper modules to the grid above the stage to provide a 'flop & drop' effect for 15-metre-long gold mylar streamers. During the track 'Spinning Around', the Electro Kabuki system dropped one end of each streamer perfectly on cue for the dancers to interact with. At the end of the routine, stage two of the kabuki drop released the streamers from the grid, which fluttered impactfully to the stage.
ER Productions supported all 27 of Kylie's glamorous shows across Europe, from the inaugural event in Newcastle in September to the final show in Hamburg in November. The Electro Kabuki system is a new acquisition for ER Productions that allowed its crew to rig the flop & drop effect for Kylie's gold streamers.
Electro Kabuki uses smart electromagnetic technology and a purpose-designed snag-free hook to guarantee a flawless kabuki drop every time. It has become the mainstay of staging professionals the world over who need to rig a dependable theatrical drop effect.