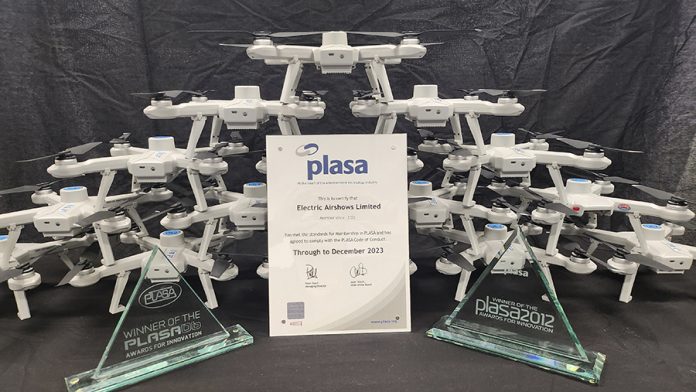 Electric Airshows, the brand new company offering aerial drone light shows to the UK events industry, has announced its membership of PLASA, the UK-based Professional Lighting and Sound Association, and ARPAS-UK, the only trade association focused on the UK drone community.
Electric Airshows, which officially announced its arrival at the start of 2023, has been a long time in development. Headed by two well-known figures from the entertainment production industry, Chris Crockford and Ian Lomas, the company is now offering an initial fleet of 100 drones, purchased from leading Chinese drone show specialist, DAMODA Intelligent Control Technology. The company plans to reach a total of 500 drones – the limit allowed by the UK's Civil Aviation Authority (CAA) – by mid-2023, making it a major player in the UK's emerging drone show market.
In being accepted by PLASA, Electric Airshows becomes the first ever dedicated outdoor drone show provider in the Association's membership. Commenting on his company's PLASA membership, Crockford says, "It's quite something to be at the start of a whole new branch of the entertainment industry and to be welcomed and supported by the PLASA family that we've known for so long. We're really looking forward to playing our part."
As the leading international trade body for the world's entertainment technology and production market, PLASA represents the top players in the industry, promoting best practice and skills development, publishing safety standards and industry research, and facilitating trade and networking opportunities.
ARPAS-UK, the Association of Remotely Piloted Aircraft Systems, supports members including start-ups, established operations, operators, manufacturers, software and service companies through promotion of innovation and best practice. It works closely with industry regulators, in particular the CAA (Civil Aviation Authority), UK Government departments and other key stakeholders to the benefit of its members and the industries they serve.
Crockford already has a rich history with PLASA, having twice been honoured by the prestigious PLASA Awards for Innovation. The first time was in 2006 for the mDMX wireless DMX system which he developed for Avolites, and the second was in 2012 for the Super2fer, by Digital & Future Technologies, which enabled the transmission of audio, video and DMX signals over mains.
Crockford concluded: "We're proud to be members of both PLASA and ARPAS and importantly, to see the convergence of entertainment technology, the creative industries and aviation. It's a very exciting time."