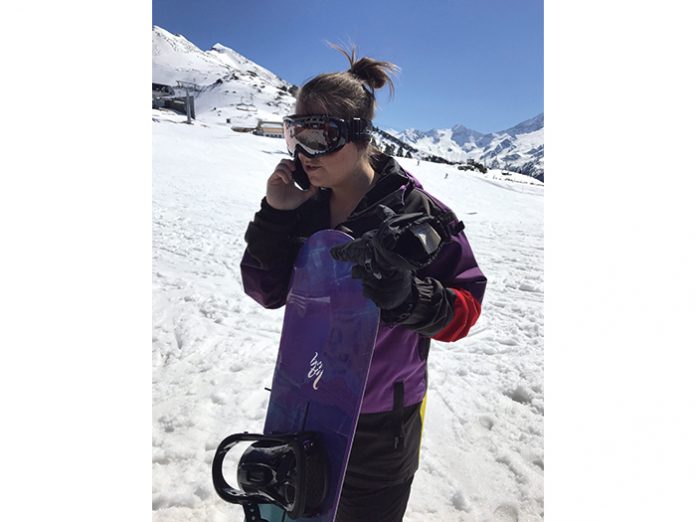 Every year when the day comes to pack everything up for Snowbombing, a music and snow sports festival in Austria, I can't believe the season has come round so quickly again! It seems like only yesterday I was cleaning the mud off my trainers from Festival No.6 and now our annual trip to Austria is upon us and we're back labelling up the boxes preparing them for the trucks.
When we started working with Snowbombing back in 2015, it was a really branding-heavy event. We were asked to lift it, make it more 'festivally', while still staying true to the brand and colours. We introduced lots of ribbon strip bunting, foamex cut outs and transformed the forest party into a fairylight wonderland. All things that could be easily packed down and condensed ready for the long 1,000 mile journey to Mayrhofen from the north of England.
We applied the same theory to the Funhaus  venue décor for 2017, where we installed loads of bright coloured physio balls that hung from the ceiling. Once deflated, they are a winner for saving space in the transport!
The main challenge with this festival is that you are in a fairly remote ski resport. It's not like you can just pop to Screwfix if you need some extra bits! I guess one of the things I have become accustomed to is next day delivery. You can plan for 99% but when you're up a mountain, that 1% can make or break the install. You have to be considered and constantly work through the thought processes for each member of the team, making sure they are fully supported and have everything they might need.
This also applied to Boardmasters in Cornwall last year. It was our first time working on the show, and it's another place where next day delivery is not going to happen. The knowledge from our local runner was invaluable, and my meticulous planning for the 13 members of the Decordia team was vital.
Packing for Snowbombing also coincides with our busiest time of year. During the first few months my time is split between site visits and long days in the office, costing, designing and writing up festival proposals. It's fast paced – one minute I'm on a call about recreating an iconic '90s Manchester club, the next I'm checking through CADs, flag seams, signing off signage, and have about 10 budgets open… and even more Photoshop files.
Luckily though, this is the point where the project managers come in for each show and take a lot off my hands. The Decordia team are all so focussed and have such excellent attention to detail that I know the prep and installs will go well. This is also true for our winter work, particularly on Junkyard Golf, where forward planning is essential. Most the items on the courses are one of a kind. If I don't plan and spend a lot of time on eBay, my team will be held up. For the last 2 years, these course builds have taken place in October, so it's another thing we have to fit into April before visiting the mountains.
Despite being busy this is also the time of year when all my excitement kicks in, and I know we're going to be buzzing all the way through to September when I'll be stood having a drink with the team, watching the final Festival No.6 headliner, and thinking… well that festival season went so fast!