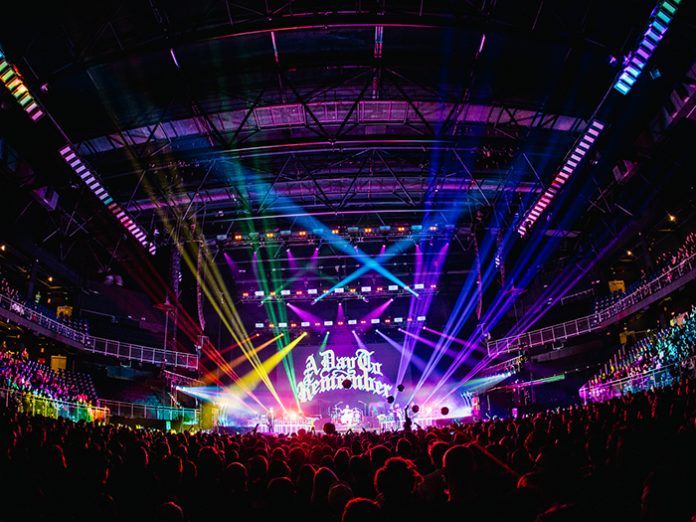 Canada-based Lighting Designer Alex Mungal of Alien Lites selected Claypaky Xtylos fixtures for the European tour of American rock band A Day To Remember (ADTR), which wrapped at the end of February in Antwerp, Belgium.
Mungal designed and programmed the show for ADTR, which was on tour with Bring me the Horizon and Static Dress. The band has had a busy run lately with the month-long European tour that stretched from Portugal to Poland following a North American headlining tour that kicked off in Baltimore in July 2022 and wrapped in Las Vegas in October. ADTR also played an acoustic theater tour in the US from the end of November to the end of December 2022.
Mungal has a particular passion for lighting music. A musician himself, he has performed as a drummer for several hardcore bands. He has designed productions and sets for musical theater and continues as the show director for the bands Disturbed and Motionless in White as well as ADTR.
"On this touring cycle for ADTR, we've been after a kind of rock show-meets-EDM show vibe with the design, so the US rig featured Claypaky Mythos2 and Sharpy washes," Mungal explains. "When we took the show to Europe, I wanted to experiment with the Xtylos and its beam that could cut clean across an arena We landed on the Xtylos as the fixture of choice and were absolutely blown away by it."
Mungal had a V-shaped floor package spanning the stage on F Type truss carts from Christie Lites, each loaded with the Xtylos fixtures. This design made for flawless on/offs and seamless transitions between artists, according to the lighting designer. Color Sound Experiment was the tour vendor for the overhead rig; Tom Campbell of Mirrad Studios shared "his powerhouse of a rig" for Bring Me The Horizon with ADTR.
Mungal was impressed by many of the Xtylos's unique features that he showcased on the tour. "We were able to achieve gorgeous blue beams and even prism effects in long-throw situations," he reports. "I can't get over how clean of a full blue beam we were able to achieve in long throws and how well prisms showed up. We didn't have an army of hazers, so seeing the clean-cut looks even with minimal haze was fantastic."
He was also pleased with the Xtylos' "quick color mix swaps and wipes in the effects. I love the laser engine behind this fixture. The overall P/T engine made the chaotic moments in the show completely fluid and smooth."
Mungal received "great support" from Claypaky for the tour and enjoyed "lots of fun feedback on social media from fans, colleagues and Claypaky alike."
His debut experience using Xtylos went so well that he said: "I would love to have them on future tours!"
The fixtures were supplied by Christie Lites.