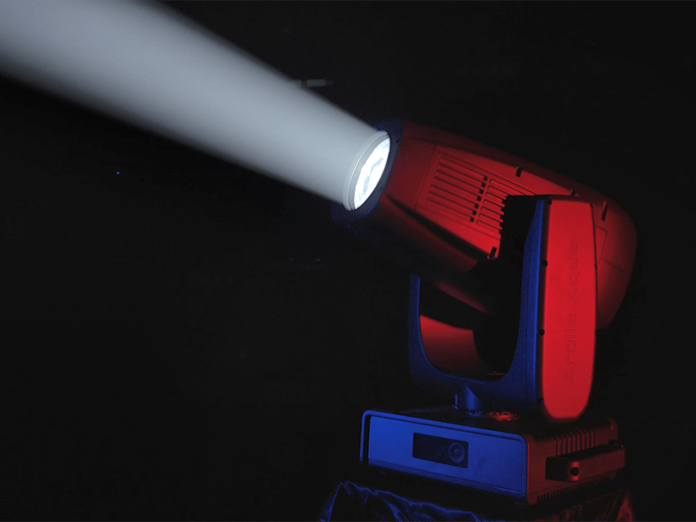 In recent years, lighting professionals have made increasingly precise demands, and manufacturers have geared their production to certain market trends which have become impossible to ignore. 
One of these, IP66 weather-resistant lights, has been taking an ever-greater market share. They are not only seen as the perfect fixture for outdoor events, but also as ideal lights for indoor productions, since they are protected against the harmful effects of dust and a variety of other external agents, and therefore require less maintenance.
In the long run, this results in time and cost savings, and a better return on investment.
The Arolla Aqua is Claypaky's top-of-the-range weather-resistant light. It is a true workhorse with IP66 rating and technical and construction features which were once unimaginable for this kind of light.
Claypaky's R&D department's challenge was principally to design a high-power, high-brightness fixture with top-level performance while at the same time limiting its weight and size.
The Arolla Aqua's dimensions are indeed remarkable: less than 750mm in height and only 38.5kg in weight, thus enabling fast pan and tilt movements.
The Arolla Aqua fits a white 900W (7000K) LED light source, capable of a 40,000 lumen output. This means it can compete with both high-power-range lights (given its output) and medium-power-range lights (given its small size and weight).
Its uniform light beam is another key feature. The high quality of the beam, its density, and the total absence of spurious lights can be appreciated with the naked eye, and its zoom can be adjusted over a linear 5.5°-50° range (9:1).
The Arolla Aqua boasts an effects section consisting of two gobo wheels (one of which rotating) with very high-definition dichroic glass gobos.
This includes an innovative animation wheel which brings out some of the most typical effects of this feature, a four-sided prism, a 16-blade motorised iris, a framing system on four focal planes with rotation between +/- 60°, and a separate macro control channel.
Thanks to our exclusive "Go-Bright" technology, there is no light loss or colour shift when gobos are inserted into the beam. The gobos can be swapped and morphed with each other and the animation wheel to create new, exciting textures.
The colour section consists of CMY colour mixing with 16-bit control, linear CTO and a six-colour wheel (including an 88+ CRI enhancement filter).
This moving head comes complete with a soft edge frost filter, flood frost effect, ultra-precise 24-bit digital dimmer, digital stop strobe and four fan operating modes, right up to the highest level of quietness.
The Arolla Aqua sets a new benchmark for professionals who are looking for a high-power IP66 light which is compact, reliable and complete in every aspect, with top performance and an unparalleled cost-performance ratio.