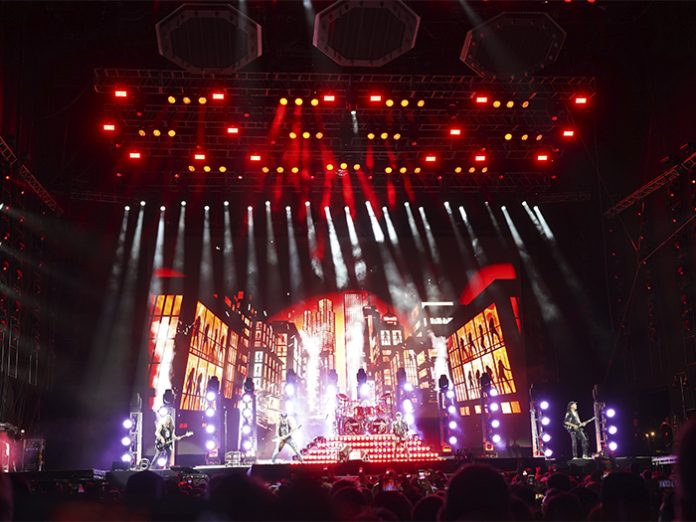 AV equipment supplier Macaio Argentina provided rental company Buenos Aires Live Show (BALS) with 42 Claypaky Scenius Unico and 48 Claypaky Sharpy Plus which were displayed at the Masters of Rock 2023 heavy metal music festival held at Parque Roca in Buenos Aires, Argentina on April 28.
Masters of Rock was headlined by the legendary bands KISS, Deep Purple, Scorpions and Helloween with local act Horcas opening. As Masters of Rock is an international festival, the local adaptation was in the charge of LD Gaspar Potocnik, who was hired by the local production company Ake Music. The technical structure was provided by BALS.
"For this festival the lighting proposals were adapted by unifying the ceiling and stage while adapting to each act.," said Marco Alejandro Fressone in Communications and Marketing at Macaio. "KISS as the closing main band added their own ceiling pods with some extra lighting and scenery."
The Sharpy Plus fixtures were chosen for their colors and effects. "Their color wheel with multiple dichroic filters create different hues and shades while their high-intensity narrow beam was a key factor for an application of this size," notes BALS Business Manager Hugo Mossi. "On the other hand, the optics and versatility of Scenius Unico made the fixture a perfect match for this kind of show. We've been using them for a while with outstanding results."
According to Mossi, "Claypaky lights always deliver exceptional light output, precise beam control and impressive color mixing capabilities. The combination of high-quality optics and advanced technology always gives us stunning visual effects and versatility."
The crew from BALS reports that, "the performance of the luminaires was extraordinary. Colors, gobos and optics are incredible on these Claypaky fixtures; both the international bands and the audience were very satisfied with the display."
The lighting crew included Mariano Nereo Chiavassa, Federico Castro, Juan Andres Mato, Alejo Passerini, Ernesto Da Silva, Javier Rincon, Lucas Guerrera and Andres Dyluk.