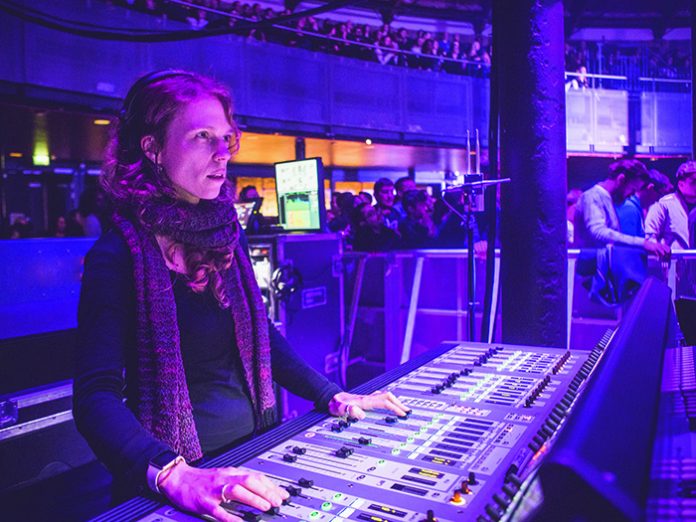 Today is the culmination of a run of shows for rarely seen singer-songwriter, poet, artist and composer, Keaton Henson. Keaton – and Ren who plays cello at every show – are two of my absolutely favourite artists to work with – their music is an absolute joy to mix. Today is going to be extra special with the addition of a four-piece string section comprising double bass, viola and two violins.
London Palladium, in the heart of Soho, is an absolutely beautiful, Grade II listed theatre that is more commonly home to musicals and theatre productions but has a long history of special rock 'n' pop performances too; Coldplay and Bon Jovi recently performed here. I've never mixed here but the recent run of Keaton shows have been in some pretty special places, including the similar size Royal Theatre Carre in Amsterdam, so I'm well primed for today's show.
The PA system is an immaculately installed L-Acoustics KARA rig with SB28's on the floor and a flown SB18 centre hang. We have an Avid Venue console at FOH and an Avid SC48 on monitors, manned by my trusted friend and colleague, Matt Kanaris with whom I last worked on Laura Marling.
As I have a file from the recent duo shows Keaton and Ren have been performing (with just cello, piano and vocal) I have a head start on the soundcheck which is good, because the second the last line is plugged in the guys are chomping at the bit to get started with a full string section rehearsal!
I only get a short time to play some music through the PA, but as one would expect in such a high profile venue, it's a very well installed system and only needs very minor tweaking in the low end so I can keep the double bass and cello unbridled and rumbling gently through the SB28's. DPA have been especially kind and lent me a full set of 4099 microphones for the strings and piano, complemented by Schertler pickups for the double bass and cello. I am using DPA d:facto vocal mics alongside another generous loan from Shure of a KSM313 ribbon mic for the guitar amp.
The DPA 4099's need very little work on the fiddles that shimmer, especially on the highest notes and whilst the viola, and cello need a little more attention to iron out their tricky mid range, the 4099's and their extremely convenient mounting systems for each specific instrument make life very easy.
I take real time listening to each of the string players individually, both acoustically off the stage and through the PA, comparing and tweaking my amplified version to match the natural sounds as much as possible. It's a delicate process but the combined sound of all the string players together once this is achieved is just spine tingling. I sit for a good 10 minutes in the middle of the venue just taking in the music, feeling incredibly honoured to say I get paid to do this. It's a great thing to be able to still say that after almost 20 years on the road!
I take care to work just as attentively on my reverbs as well: four separate ones for vocals, piano, cello and strings so that they enhance and compliment rather than overwhelm and destroy the natural sound in what is a lovely but very 'dead' sounding room.
The show itself turns out to be one of those incredibly special occasions where the audience almost resonate with anticipation and remain pin-drop silent, seemingly with their collective breaths held throughout each song. Keaton is masterful and sometimes hilarious in breaking this tension by making a random joke (usually at the expense of Ren!) only to immediately re-build tension the second his lonely piano / guitar notes and the melancholy cello lines begin again. This kind of atmosphere is exactly what makes mixing live sound my absolute joy. What can often feel like an exercise in damage limitation suddenly feels like a real art form when the music allows it to be about delicacy, subtlety and most of all, just letting really talented musicians do their thing.
Bryony October