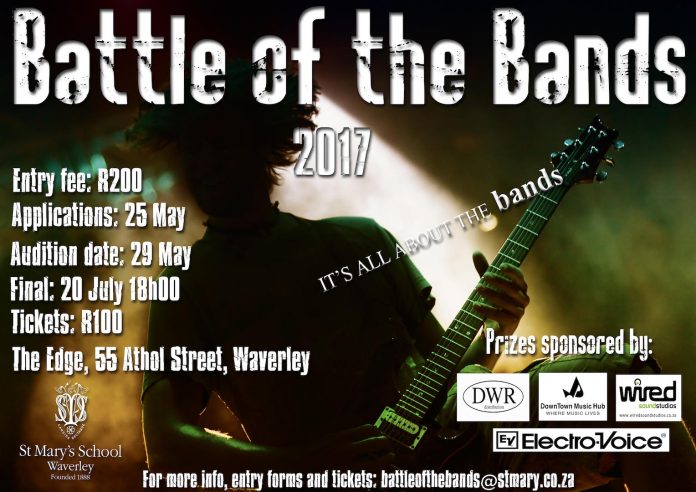 This year will celebrate the sixth St Mary's Battle of the Bands competition and for the third year DWR Distribution is delighted to be a sponsor once again, prizes including a dot2 Node, DMX Dongle and training! The competition has moved tremendously in regards to the technical rig and now includes a National Schools Lighting Competition. Barry Stydom gives feedback on the growth and interest from the children in this exciting project.
Strydom is the Manager at St Mary's The Edge Theatre in Johannesburg and has been part of Battle of the Bands since the very start. "Six years ago, we started with a totally generic rig with piles of gobos and gels," he smiled. "It has grown to a point where any professional band would be happy to perform on the set. Then in 2015 we introduced a lighting competition and while for the last two years only Johannesburg schools have been involved, this year we were hoping to draw entries from at least five provinces."
The lighting competition preliminaries will run using MA dot2 on PC and dot2 3D visualiser V1.3.1.4, and entrants will receive a song and showfile digitally and then be expected to programme a lighting show to compliment the music. Barry will provide training to assist entrants and their showfiles will be submitted to him by 15th of June. Those selected will move forward to the final competition. The winner of the competition also gets to light the actual Battle of the Bands competition.
What Barry enjoys most about the lighting competition is the fact that it is one of very few opportunities for young people interested in lighting and in performing arts technology in general, to experience what a professional live event looks like and feels like form the production side. "I am always amazed at the creativity and ability of the participants," he said. "The growth and interest in the field from students has been phenomenal. We are hoping that more and more schools will start encouraging youngsters to work backstage, which is as vital to any production as the actual performers. Kids are finding new ways of expressing their creativity and it is a huge boost for their self-esteem to be able to say that they helped make something spectacular."
Gareth Chambers from DWR has enjoyed being part of the project for the past couple of years. "We are very pleased to see how Barry is instilling a love for the technical aspect amongst the students," commented Chambers. "To reward them for their hard work, DWR will be providing the winner of the competition with a dot2 Node, free training on dot2 and the opportunity to attend a lighting workshop. Second place will receive a DMX King single universe dongle and also the training and lighting workshop invitation. The third runner up will be invited to attend dot2 training and the lighting workshop."