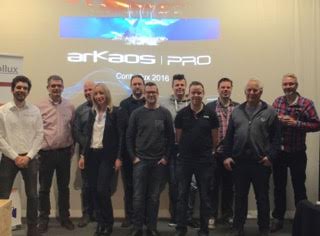 Arkaos PRO has appointed Controllux BV as its new, exclusive distributor for the Benelux countries. The agreement, reached in February 2016, gives Controllux exclusive distribution of the full ArKaos PRO portfolio of professional media servers and software across the Netherlands and Belgium.
Controllux is a leading distributor of professional lighting equipment and handles a large range of well-regarded industry brands from its offices in the Netherlands and Belgium. The company will be responsible for promoting the ArKaos brand across its wide remit of theatre, broadcast, film, entertainment and architectural markets.
"The Controllux portfolio, with all its brands and its disciplines, is a perfect match for the ArKaos PRO products," said Bram de Clerck of Controllux BVBA. "Our team and myself are looking forward to this new challenge and aim to become an interesting partner for Arkaos. Every area of our marketing activities is supported by its own dedicated employees and, with over 30 experienced employees, we can ensure our customers get the best service, support and solutions. As theatre and entertainment becomes more and more video-orientated over conventional lighting we can now, with ArKaos in our portfolio, provide our customers with new solutions for their growing demands for interactive technologies."
The ArKaos PRO products will be supported by Controllux's service department which offers 24-hour phone support, eight permanent outdoor employees giving on-site support, showrooms for demonstrations and training, and a stock of products in the Netherlands and Belgium offices enabling fast delivery.
"Our team of specialists will be actively promoting ArKaos PRO products at tradeshows across the region, with face-to-face demonstrations to our customers, training in our workshops, and via our online marketing interfaces, including our Controllux webshop," confirmed de Clerck. "We are very happy to welcome Controllux to the ArKaos distributor network," says ArKaos managing director, Agnes Wojewoda. "They are a company with a fantastic reputation and great market penetration across the Benelux countries. We know we can trust them to grow the Arkaos brand in a territory that is very active and full of potential for us."