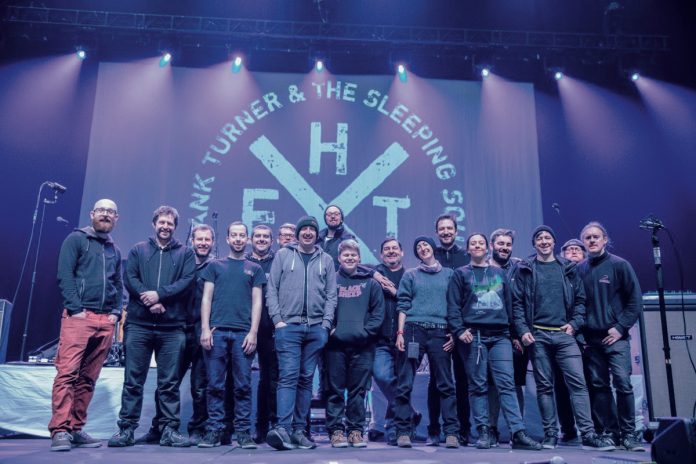 A chilly January tour brought together a fantastic team of people for Frank Turner & The Sleeping Souls' UK production tour.
Spanning venues from Glasgow O2 Academy to Alexandra Palace, via Manchester Victoria Warehouse and a smattering of UK Arenas meant that the tour called for a scaleable design, manageable in terms of both logistics and the design elements.
It was really important to me that we were touring a light show, pyro, and video, including cameras, that would work in every venue. Also of concern was making sure all of this was manageable with a small crew, so everyone could have a pleasant experience out on the road. I went to Christie Lights to supply lighting, as I have a good working relationship with Mat Ilott, who I worked alongside on Kylie. The use of their F Type pre-rig truss made for a smooth in and out every day.
I managed to coerce Neil Holloway to be my crew chief, even though he is normally found at the other end of the lighting snake these days. Along with Production Manager Dougie Murphy, we had toured together many years ago on The Wombats, so it was great to reunite the old gang, so to speak. Teaming Neil with rigger/lighting tech Domonick Warrington made for a great lighting department.
The lighting rig was simple, functional, used to create a strong band and drape colour washes using GLP JDC1, Martin by Harman Mac Quantum Washes and Mac Auras. Hard edges and detail came from Viper AirFXs, including some custom gobos, and Martin Mac Axioms on the floor for use as spots, but also with a second important job to do.
I knew I wanted to sneak some mirrorballs in somewhere, and wanted beam lights for these but then for no other looks. On a budget, the solution to this was a hybrid light. Four small mirrorballs rigged off the back of the risers lit using the Axioms in a fast, random shutter made for a really special moment in the show.
Adlib supplied both audio and video for the tour. On the visual side of things, they provided 2 Panasonic PT-RZ21K DLP Laser Projectors, 2 Catalyst Systems and a selection of lipsticks cameras fed directly into Catalyst, all of which were cut via the MA Lighting grandMA2 console as lighting cues. The video was overseen by Rich Rowley, who played a very active role in advising on camera and lens selection, as well as researching the best way to mount cameras onto unusual things, such as ego risers and Mac Aura casings. On the road, video duties were handled by Matt Hopwood.
Pyro and 3 kabuki systems were provided by AC Lasers, looked after by Michael 'Biscuit' Morey. This wasn't something the band had taken on a tour before, so figuring out where to integrate the cues into the show was a collaboration between Frank and Ali.
Frank wanted something sparkle-curtain-esque for a particular song, so the Sparkular units provided that look, but in a way that we could make work in smaller venues. The Galaxis G Flames gave us a pleasing burst of warmth in colder venues, and according to Frank, 'made him feel like a wizard'.
The show finished with a bang, with the final note being accompanied by 4 Magic FX stadium shots full of 'hot pink' confetti every night.
Frank couldn't have been happier with the final results. I'm not one toot my own horn so I'll leave it to him…
"Bringing Ali on board to design the lights and production was a huge step up for me as a performer. She brought taste, thought, rhythm and excitement to my live show in a way that really helped me translate my art effectively into those huge rooms."
Ali Pike