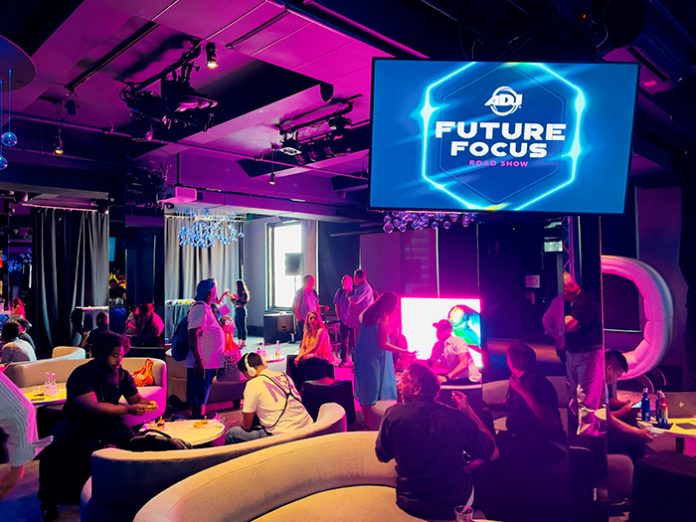 Following a successful launch event in New York City last week, the ADJ Future Focus Road Show will roll out to locations across the USA and Mexico throughout Autumn. First up will be an open house at ADJ's Global Headquarters in Los Angeles, CA, on Thursday, August 25, before the Road Show hits cities across the USA and Mexico over the coming months. Each event will showcase ADJ's latest product releases and also offer an opportunity for industry professionals to gather, socialize and share ideas.
On Tuesday August 16, ADJ officially launched the Future Focus Road Show series at a social mixer event in New York, hosted at 230 FIFTH in the heart of Manhattan. This penthouse venue – with its commanding views of the New York skyline, including the iconic Empire State Building – provided the perfect backdrop for the Future Focus launch. The extremely well attended event saw lighting and event professionals from across the state gather for food, drinks, socializing and networking, as well as demonstrations of ADJ's latest entertainment lighting, LED video, and DMX control equipment.
Following this successful launch, the Road Show will now travel to cities across the US and Mexico, providing opportunities for lighting professionals to spend quality time with the ADJ team, finding out about the company's latest equipment releases, and checking them out firsthand. These demonstrations will include shoot outs with fixtures from leading competitors, providing a useful reference to the output and features offered by the ADJ range. Each event will also provide the chance for local industry professionals to gather, share ideas, and start to focus on the next step in the evolution of their business or career.
"As the entertainment industry continues to thrive, we know that many of our customers have been working all out over the past few months, so we wanted to provide an opportunity for them to take a break and relax in a social setting at our Future Focus launch," explains ADJ USA's National Sales Manager, Alfred Gonzales. "That's exactly what happened, and we were pleased to welcome many ADJ customers, users and industry friends – both old and new – to enjoy a drink and a bite while 'talking shop' and looking towards the future. Of course we also showcased ADJ's latest fixtures, which garnered a lot of interest and a number of new orders as visitors looked towards their future projects. We're now planning to bring the same format to each of our Future Focus Road Show dates across the US and beyond, so please join us to socialize and talk about your future use of ADJ fixtures when we visit a city near you over the coming months."
The Future Focus Road Show will now hit the road, starting at ADJ's LA headquarters, before taking in cities including Houston, New Orleans, Atlanta and Monterrey, México. Each Road Show stop will showcase all four of the new fixtures that have recently been added to ADJ's popular Hydro Series of IP65-rated moving heads. From the compact Hydro Spot 1, thru the feature-packed Hydro Spot 2, to the piercing Hydro Beam X12 and the flagship Hydro Profile, the range has something to offer a wide variety of applications and budgets. The latest additions to ADJ's LED-powered Focus Series of moving heads will also be on display: the compact Focus Flex zooming wash, the Focus Profile feature rich profile luminaire, and the Focus Wash 400 lime-infused Fresnel wash fixture.
ADJ's growing Encore Series of professional LED-powered stage lighting fixtures will also be displayed at the Road Show. Alongside the Encore Profile Pro and Encore Profile Pro Color ellipsoidal fixtures, wide angled COB Cannon LP200ST, and Encore FR Pro Color zooming Fresnel, attendees will have the opportunity to check out the recently released Encore LP12IP par, Encore LP32IP panel, Encore LB15IP bar and Encore Z7LP zooming par fixtures. All of these models feature the same potent 20-Watt 4-in-1 LEDs, which include lime chips for increased CRI and perceived brightness alongside the red, green, and blue primaries.
Also on display will be the new Jolt Panel FX and Jolt Bar FX multifunctional wash / strobe / blinder fixtures, which each feature a central strip of 5W cool white SMD LEDs surrounded on both sides by arrays of 0.3W RGB SMD LEDs arranged into multiple independently controlled zones. Two of ADJ's LED video panel solutions will also be showcased; visitors can expect to see a pair of eight panel displays, one created from the high resolution VS2 panels and the other showcasing the outdoor-rated VS3IP panels.
ADJ's innovative iPad-based DMX control solution the LINK will also be showcased, as well the NX2 from sister company Obsidian Control Systems. Meanwhile, audio for the event will be powered by another ADJ sister company, Avante Audio, utilizing the unique Imperio Series 'mini' line array solution as well as the Achromic Series of active point source speakers.
Everyone involved with lighting, video or audio production at rental houses, integrators, theatres, houses of worship, schools and event companies is invited to attend the Future Focus Road Show events. Entry will be free, but please register your place in advance (using the links below) to help the ADJ team ensure that we can safely accommodate everyone who wishes to attend each road show stop.
Thursday, August 25, 2022 – Los Angeles, CA
ADJ HQ
6122 S. Eastern Ave.
Los Angeles, CA 90040
11am-4pm
Register your place here.
Tuesday, September 13, 2022 – Houston, TX
The Events Company
1237 N. Post Oak Road
Houston, TX 77055
12-4pm
Thursday, September 22, 2022 – Orlando, FL
Cuba Libre Restaurant & Rum Bar
9101 International Drive
Orlando, FL 32819
12-5pm
Wednesday, September 28, 2022 – Wilmington, DE
Light Action Pine Box
1145 E 7th Street
Wilmington, DE 19801
Time: 12-4pm
Tuesday, October 4, 2022 – Virgina Beach, VA
Stage Right Lighting
513 Viking Drive ~ Suite 6
Virginia Beach, VA. 23452
Time: 12-4pm
Tuesday, October 11, 2022 – New Orleans, LA
RZI Lighting
3866 Euphrosine Street
New Orleans, LA 70125
Time: 12-4pm
Tuesday & Wednesday, October 18 & 19, 2022 – Monterrey, México
Ubicación
Centro de Convenciones Pabellon M
S/N Avenida Constitución
Monterrey, NLE 64000
Mexico
Time: 12-4pm
Register your place here.
Thursday, October 20, 2022 – Atlanta, GA
Dillon Productions
5835 Oakbrook Parkway
Norcross, GA 30093
Time: 12-4pm
Thursday, November 10, 2022 – Seattle, WA
R90 Lighting
6335 1st Ave S
Seattle, WA 98108
Time: 12-4pm
More dates to be added soon.