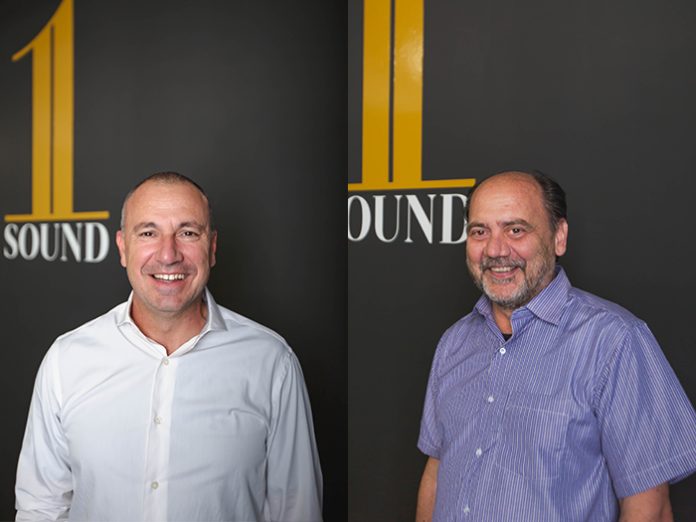 1 SOUND, a premium loudspeaker manufacturer in the USA, is excited to welcome Leonardo Dani and Leonardo D'Andrea to its team as Sales Executives focusing on Europe, Middle East, and Africa. 1 SOUND was founded in 2019 by designer Lou Mannarino and has spent the last three years growing its business in the U.S. pro-audio market and developing its catalog of innovative products.
Dani and D'Andrea will work together in developing 1 SOUND's global network of distributors as well as handling 1 SOUND sales for EMEA, taking the U.S. brand international.
Leonardo Dani has 15 years of experience in developing and leading international markets and distribution networks with high expertise in building and implementing market strategies. Dani has spent the last three years as Chief Sales Officer for Pequod Acoustics where he developed their international network of sales and marketing. He takes pride in aligning the corporate strategy to culturally diverse markets and business environments.
Dani started his career within the pro-audio industry as Global Export Manager for K-array until he moved into the live entertainment industry in 2013. Through his career of working in the field as an audio engineer and his roles as Global Sales Manager for companies like APIA Pro Audio and Outline (global market) he has gained a motivated hands-on approach to sales and expansion within the audio industry.
"I am very excited to engage in this new venture with 1 SOUND as Sales Executive for the EMEA market. Something about me…I come from the live entertainment industry, I worked in big tours and international music festivals. I have accumulated important experience in sales, and good results, and I have created a strong network of international clients.
I am honoured and grateful to be part of the international team at 1 SOUND. I have known and esteemed the founder, Mr. Lou Mannarino, for years. I consider him a mentor and friend. Even if the company is already more than suitable for the international markets, I am convinced to bring an added value to 1 SOUND; with my experience and my ideas. I can't wait to start work with the amazing 1 SOUND products."