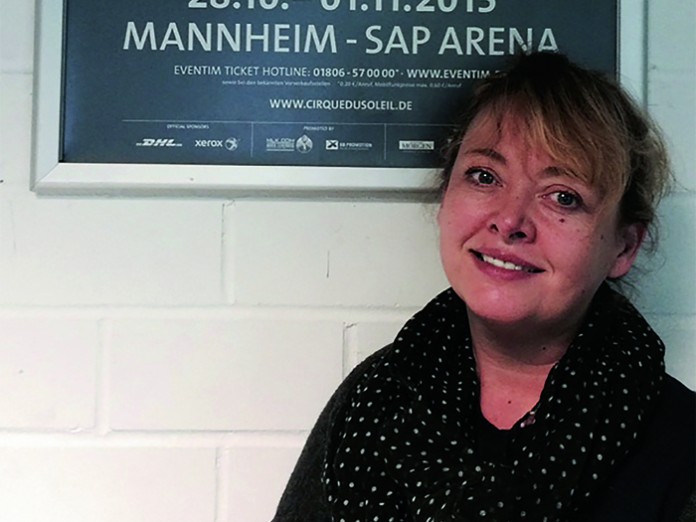 I always talk about how I have the best of both worlds, being able to split my working life between North America and Europe. Having worked at Eat to the Beat for over 25 years, I've seen CEO Tony Laurenson's dream of branching out over the planet become a reality – and I've been lucky enough to 'on-site' manage a lot of the big contracts. Whether it be music, travelling car shows, film catering or athletics, Eat to the Beat has grown into a formidable player.
I remember my first trip to New York was however a 'jolly'. Four of our main crew at the time and some of my best friends were on tour with Sarah Brightman, it was winter at the start of 2001. New York was awe-inspiring and we raced around the city on the only full day the guys had off, trying to see everything at once. After my initial memorable visit to New York, I proceeded to do many different tours for Eat To The Beat USA including Mercedes Benz and Lexus cross country car tours taking up months on end; large rock tours, The Eagles and Van Halen, and medium metal tours Slipknot and Marilyn Manson. Eventually we were taken on permanently by IMP, the excellent promoters behind the famous Washington 9:30 club – voted one of the top five sheds in the country after Red Rocks and the Hollywood Bowl, and Merriweather Post Pavilion, Columbia MD, nestled in beautiful countryside between Washington DC and Baltimore.
Eat To The Beat was commissioned to do 'The Season' for the last eight years at Merriweather and I have been lucky enough to base myself there for most of the summer months. It really confuses most British crew who come through the venue. "Are you any relation to the British Eat to the Beat?" they ask. My Glaswegian accent and the flight cases soon gives it away!
I write menus according to the visiting band's origin. For example, if it's a British band who've been in the States for a while, the menu will reflect home comfort staples like shepherd's pie. When Belle and Sebastian came through I knew one of the crew really well and greeted him at the toaster with a bottle of Iron Brew and an offer of Heinz Baked Beans with his breakfast. He nearly cried. God knows what would have happened if I'd offered him a square sausage!
The summer season in America is fantastic but along with everyone else in this crazy circus called touring, I need to fill those winter months. Six years ago Eat to the Beat started a great relationship with a real circus, Cirque du Soleil. I toured for six months with the fabulous Saltimbanco show and discovered a new way for Eat to the Beat to showcase our flexibility and unique talent for satisfying every palate in nutritionally challenging situations.
This is the first time I had ever worked with athletes and the first time our bain-marie and buffet looked so colourful with vegetables and fruit playing major roles creating a healthier choice for all, including myself! As I'm getting older it's more difficult being around banoffee pie. I just have to keep telling myself: I know what that tastes like! I've had it a thousand times before!
As my venue static summer months grew into autumn I got the call that we had been asked back to Cirque. This time for Varekai as it was about to bring itself back across the Atlantic after the North American leg. Each week it's in a different European city. One load-in and one load-out a week. Perfect. This is where I find myself now, in the mid-week one show Wednesday, with the mad rush of dinner over as the troupe troop off to their weekly meeting.
Two weeks ago we started with a week in Berlin's Mercedes Benz Arena and we were asked to join this meeting and introduce ourselves. We were touched by the feeling of the applause as Varekai Company Manager Clare O'Connell introduced us back into the fold. Over and over again, the artists come up and shake our hands saying they are so happy we are back.
My family and friends back home are starting to ask me now when I'm going to stop travelling but the more jobs l go on like this one, with lovely experiences, lovely people, great places and the chance to cook good food, makes that prospect look like a very long way away…
Soozie Coll