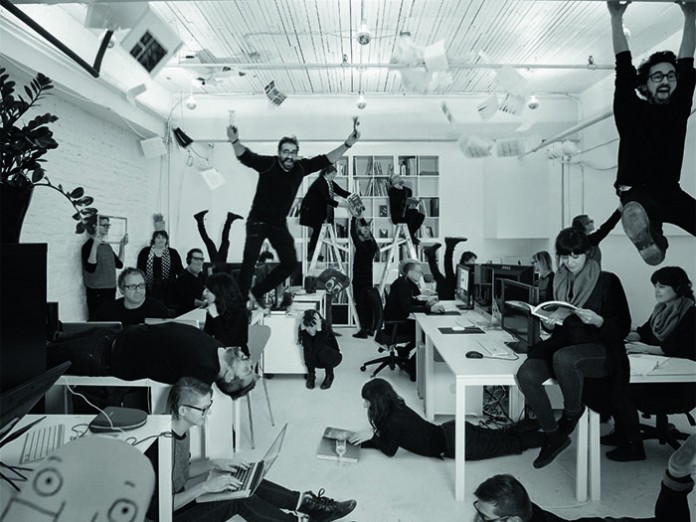 Three time zones in 36 hours. Taylor Swift, Britney Spears, 100 dancers, too many extras, some multi-media Shakespeare. A broken iPhone, a black eye, a lost credit card and a lucky game of roulette. It's just one of those days for Silent Partners' Gabriel…
I'm in Vegas now. I rushed here with Isabelle our producer and Jocelyn, a great Video FX guy we work with. After putting to bed the new video scenography for Taylor Swift's 1989 tour, the show left, it's on the road and we're almost done! I'm in the City of Sin for 48 hours to drop off reformatted HD files for Taylor's Vegas gig, and to add bits to Britney's permanent show Piece Of Me. She's got a new single with Iggy Azalea coming out and Baz Halpin, the Creative Director, hired us to take care of the visuals. So, after two weeks of designing the content, our little skeleton crew, who dragged a full suite of computers with them, will also need to capture a live performance from Britney with Iggy and add it into a teleportation VFX gag for a reveal during the Billboard Awards. Never a dull moment! The show airs in a few hours here in Vegas, so we're cramming in our hotel room. I. Must. Smoke.
I check in with my partners Janicke and David back in Montreal who are frantically prepping for the biggest production we've ever been in involved in; we're producing content for the closing ceremonies of the European Games in Baku, Azerbaijan. We're used to rock 'n' roll touring shows that look and feel big, but in the end, involve only a handful of talented people. In Baku, it's gargantuan. The production office alone houses more than 120 people from several countries. Led by Five Currents, we're working on stadium content that will involve a gazillion extras performing a mass choreography using 504 handheld LED screens. It's ridiculous. We're pretty sure it's going to be fine, but there is some mild preparation panic going down at HQ. Claudine, our designer, is already in Baku setting up shop and getting ready for Janicke and David to arrive. Everyone is racing towards deadline to finish the video and load the equipment. It's like a Woody Allen heist-gone-wrong movie. The servers don't fit in the truck, everything is chaotic. Janicke wipes-out on the ramp while also managing the amazing feat of taking her own picture with her phone while it's happening. (Action shots are on our Tumblr!)
Somehow, it's now 10am in Vegas. We've got the goods and we hand it over to Mike Polito from Chainsaw who is cutting the final edit for the Billboard Awards. Jocelyn heads for the airport while I'm back in the casino. It's the only place I can smoke in the hotel and it's been a long, sleepless night. Baz calls me to say we need to go back and change a few things with the FX. To the Batmobile! Isabelle begins phoning Jocelyn to catch him before he boards his plane. I just happen to have 500 dollars in chips. I turn around and lay it all on black while continuing to take notes from Baz. We probably have another three to four hours to re-render the piece before the Billboard Awards goes to air. Black wins. Still preoccupied with Baz, I put my winnings on black again. Blammo. I win again! Eventually, Isabelle reaches Jocelyn and we're back in the hotel room, set up and whirring away. The piece comes out fantastic. The show airs and we all jump on a plane back to Montreal. But not before I realise I've left my credit card at L'atelier de Joël Robuchon where we celebrated our work and my luck, and not before I slam my face into a television monitor in the lobby as I say goodbye to people on the way out.
As soon as we land in Montreal, me and my black eye are off to a workshop for video scenography for a five-hour Shakespeare theatre piece. I've got 10 days to come up with the base of the show, then it's off to Baku…
Gabriel Coutu-Dumont