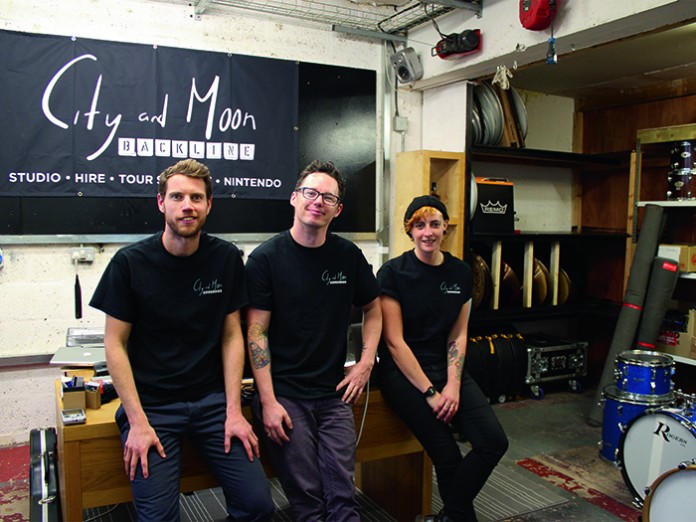 I – pictured centre – cut my teeth in the music industry with a 10 year stint at John Henry's backline hire in London, which was a great experience. I started off loading drum kits onto vans and polishing guitars, and by the time I left I was running the Pro Shop on the top floor of its London HQ, dedicating my days to putting together tour packages for the likes of Lady Gaga and Coldplay, Joe Bonamassa and My Bloody Valentine. Eventually I decided to start my own company, City And Moon Backline, a hire and tour support company in Bristol.
My days now typically start before I even leave the house. I usually start my morning by chasing overdue invoices – something every business owner learns about once they set up shop on their own! We don't currently have our own accounts department as we're fairly new, but I do have some great help from my team, (Paul Kitney and Amy Martin, seen above). Once that's done, I'll plan the day ahead in order to make it run as efficiently as possible.
Planning is vital because I have to cover so many roles with my new position. I have to prioritise my time as efficiently as possible so that I can get things done. There's usually a long to-do list (I could write a list of things I haven't got around to yet, such as putting the company logo on the front door!) but it usually works like this in the early stages of a new operation.
If we have jobs that need prepping, I prep them. It's all hands on deck throughout the day and sometimes mine are the only hands available! I do all the obvious things such as check that the equipment is working as it should be, check the cases are all in tip top shape and then package the order. I spend a good part of my day on the phone, building relationships and bringing more business to the City and Moon client base. We pride ourselves here on providing a detailed and personal service, but on a large scale. Since setting up a year ago we've gone from our first hires at tiny venues such as Start The Bus (an excellent bar / venue which has a knack for booking great artists) to providing backline to a wealth of excellent local, national and international festivals sites and touring productions for artists such as Portishead, Sun Kil Moon and Gaz Coombes.
From this steady workflow, in just 12 months we have doubled our warehouse space. In-house we've covered O2 Academy tours and provided everything from backline and wireless systems to techs and transport: the whole tour package. We've cultivated a nice creative and welcoming working environment within our small warehouse and office space. It's common for local techs and studio owners to just drop in for a coffee, and hang out in the studio to play with our instruments, or the old school Nintendo games that just happen to make the office space even more inviting! Speaking of the studio, we have a large acoustically-treated live room. And there's a nice little room dedicated to making electronic music too. Swing by the next time you're in town…
Chris Griffiths